The Triton team took on Viva Las Vegas for another successful Podcast Movement Evolutions.
This popular event brought us together to meet with our clients and connect with industry professionals in our eye-catching (big) booth. We thrive on sharing our expertise on the hottest topics in podcasting and having some fun along the way too.
After all it is Vegas, right?!
We got extra creative this year with our sponsorship goodies. We had some fun with a two-part game where you could Press Your Luck on Triton.
We had several winners for game 1 which was an instant scratch off game. One lucky winner for game 2 was selected from a draw we held at our booth. Congratulations to our lucky winners and thanks everyone for playing along, it was a lot of!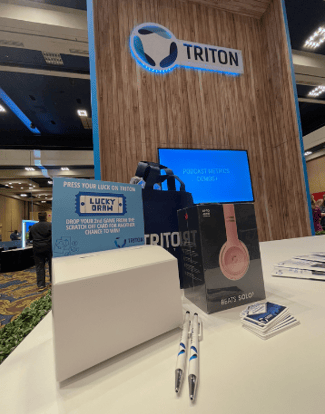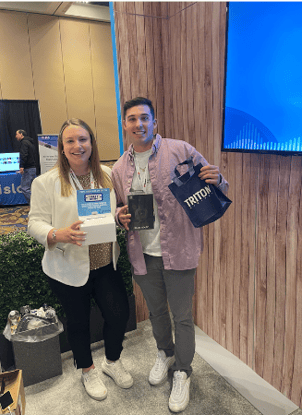 Our newly designed booth was one you could not miss, 16 feet tall, yes, I did say it was a big one! The big booth brought lots of big energy and important networking opportunities. Programmatic was one of the hottest topics discussed around the expo floor and in many of the sessions. There was so much buzz around our booth and speaking sessions, we could hardly believe it. Here are some of the hotted most buzzed about topics and questions we were faced with:
How can I get deeper analytics into my podcast audience?
How can I use my analytics to market my podcast more?
How can I ensure ad-quality?
Why programmatic?
From the Triton side Sharon Taylor and Oscar Sermeno both led important sessions this year. Sharon kicked it off on the first day of the event alongside panelists Russell Weissman, VP, Head of Audience Strategy, Sales and Marketing, All Things Comedy, Lizzie Breyer Bowman, VP, Growth & Marketing Lemonada Media, and Bella Ibrahim, Marketing Director, Kerning Cultures Network, to talk about, "Podcasters Predict: The New State of Podcasting."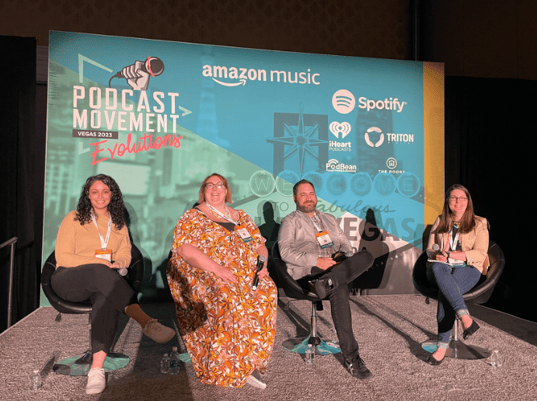 In this session, they covered TikTok, YouTube, brand safety, and so much more. The question was asked, "will podcasting become video?" and the answer was clear and simple "it would've become video by now."
However, the panelists did talk about how video can be great for marketing your podcast and it is important to engage with your audience in diverse ways to see what works best.
The panelists each shared their industry predictions for the near future:
The need to figure out how to market best on audio platforms, have dynamic promotions and drop episodes to find creative things to do and have custom content that can integrate into video.

There is no silver bullet when it comes to podcast marketing and with that comes the need to understand your audience and fan base. If you have a big following on TikTok, this could be a way people feel connected to your podcast. Catering to your super fan community can grow your audience.

Know your data - sounds simple but this will help grow your audience.

There is value and importance knowing who your listeners are and understanding why they like listening to your podcast. Finding out how your listeners are talking about your show (run surveys/polls) because the way they talk about your show might not be the way you promote it. This will be even more beneficial in understanding who your audience is.
Oscar Sermeno also led a session on, "El Podcast or O Podcast? Podcasting in Latin America," where he shared the latest podcasting data within LATAM including why podcasting is rising, media consumption around LATAM, the popularity of audio content, challenges, and more.
LATAM continues to be the hottest market for podcasting right now, and the audience asked questions about if they should or should not pursue a Spanish speaking podcast to grow their audience? Oscar shared that it could be worth trying out but to think about what your overall goal with a Spanish language podcast will be to help engage with this audience more.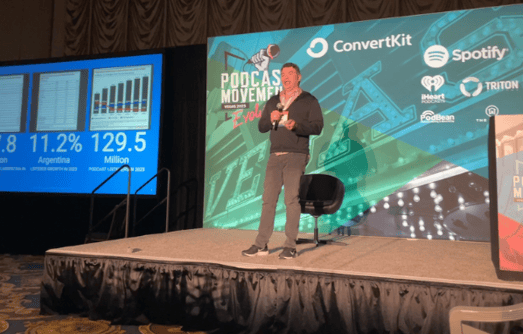 Sharon also sat on a panel with Kal Amin, CEO of Sounder, Andy Lipset, CEO of SpokenLayer, Jateen Parekh, iHeart Media, and Jordan Bentley, Founder of Audiohook to discuss, "The Future of Podcast Advertising: The convergence of brand safety, brand suitability, and contextual targeting."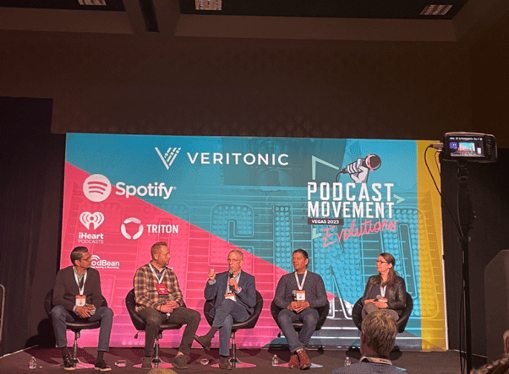 In this session, these industry leaders discussed the future of advertising opportunities within audio and how innovations, AI (Artificial Intelligence) and emerging technologies are key to ensuring brand safety, brand suitability, and contextual targeting.
They went on to talk about the concern for hearing too many ads in a podcast and how you need to look at it as, "what's good for the listener is good for the advertiser" and how "you have to protect the listener experience and the ad dollars will flow."
Everyone who took part in this panel agreed that their top goal right now is to educate, educate, educate for programmatic.
From understanding your audience, to programmatic, to brand safety, and video in podcasting, it is great to see the hottest topics in podcasting right now and what everyone is eager to learn more about.
The Triton team would like to thank everyone who stopped by our booth, met with our experts, pressed their luck on Triton, and attended our speaking sessions. We are always here to help you, inform you, and support your journey through the audio and podcast world.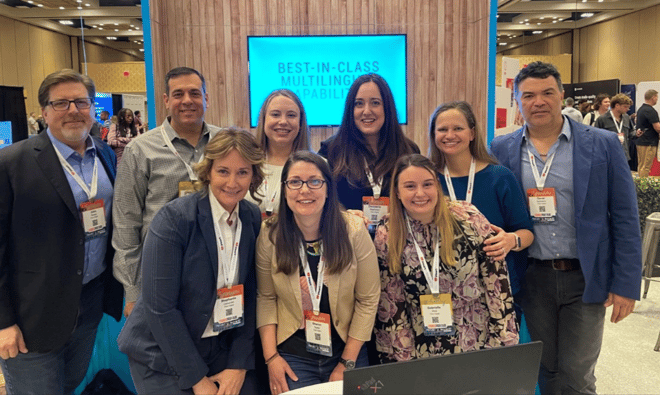 We look forward to seeing you all in Denver this summer at the next Podcast Movement!