Today, we introduce our 2023 Podcast Trends in Canada report, providing insights into the Canadian podcast landscape to accompany our monthly Podcast Rankers at www.TritonRankers.com. This report reveals key insights into Canada's listening preferences, including top podcasts, both Canadian-made English and French, top show debuts, and the best-performing sales networks.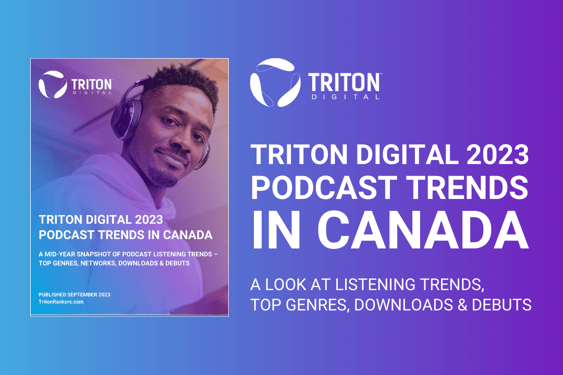 The Triton Digital 2023 Podcast Trends in Canada report explores how often Canadians listen to podcasts and what types of podcasts are the most popular in both official languages. Canadians currently download 4.4 podcast episodes per week, highlighting this medium's growing adoption and popularity in Canada.
What podcast genre is the most popular in Canada? True Crime leads the genres for the first half of 2023 with an 18% market share versus 2022's top genre being News..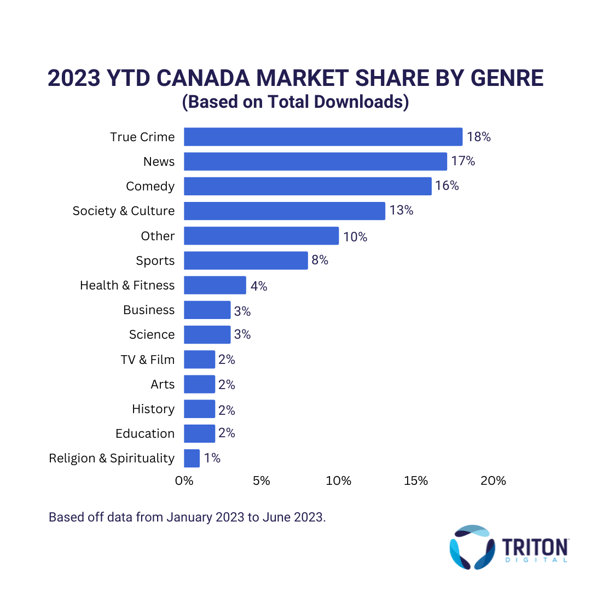 As podcasting continues to evolve and grow in popularity in Canada, it offers content creators and marketers a growing channel to reach and engage with new audiences in meaningful ways.
To delve into the world of podcasts and learn more about what Canadians are listening to, Download the full 2023 Podcast Trends in Canada Report.