Another Podcast Movement in the books for the Triton Team and what an event it was! From the booth, our five sessions, the networking, the learnings, and of course the puppies...it was yet again another successful event.
We ventured out to the Gaylord Rockies in Aurora, Colorado for Podcast Movement 2023, excited to connect with the podcast community and eager to learn about the latest industry trends.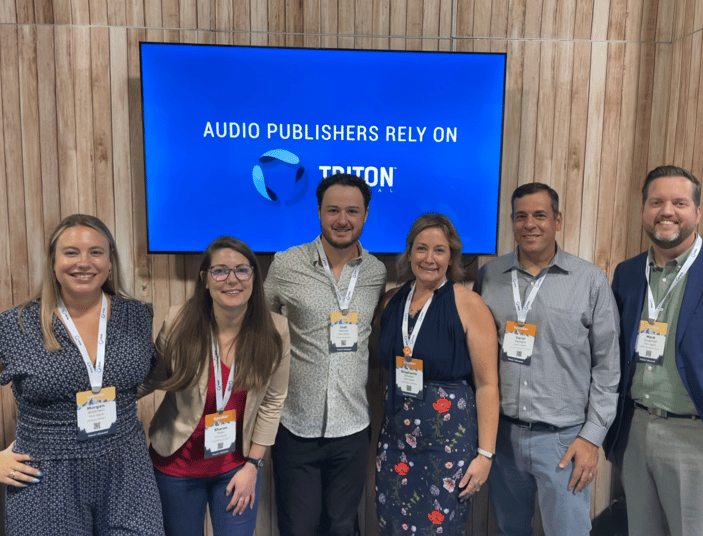 We kicked off the first full day of #PM23 with the announcement of Triton's YouTube integration with Podcast Metrics, and Stephanie Donovan, Global Head of Revenue, published an article on "Programmatic Strategy Should Not be on Autopilot."
Both topics brought a lot of buzz to the Triton booth and below are some of the trending questions from Podcast Movement attendees.
How do I get more insights into my listeners?

How do I market my podcast more to grow my audience?

How do I know if programmatic is a right fit?

What multi-lingual capabilities does your hosting platform have?
These questions were very fitting to the panel topics my colleagues spoke on live at Podcast Movement.
Up first was Stephanie's panel that she moderated alongside industry experts Brian Edwards, Washington Post, Rebecca Dalby, Spreaker from iHeart and Kacey Jerman, The Trade Desk
They dove into Programmatic 101 but quickly brought the audience up to speed for Programmatic 401, educating them on why it's the perfect time to get started.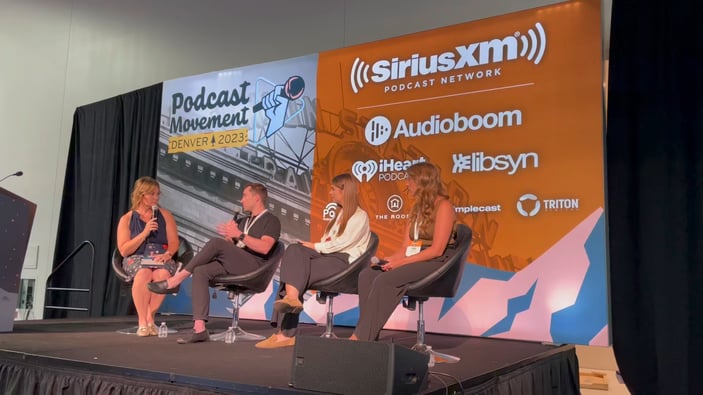 Some key takeaways from this session are:
Scale is key and is core for programmatic, whereas exclusive content is more for direct sales or used as ways for buyers to market.

Education and communication are essential, especially for the publishers to make sure inventory is optimized for advertising. Education will help make content more attractive when you understand more about the ad load and insertion points.

Brand safety is a constant concern that needs to be addressed across all fronts.
Next on stage was Daryl Battaglia, SVP Market Development & Strategy, Audience Research alongside Pierre Bouvard, Westwood One / Cumulus Media, and Jeff Vidler Signal Hill Insights Inc moderating the session, "Who's Listening to your Podcast? Grow your Audience with Enhanced Analytics."
They dove into how you can grow your podcast with enhanced analytics, and from the popularity of these types of questions at the booth, it was even more apparent here as the session was standing room.
Some key takeaways from this session are:
You can learn about your audience via free research and even social media to see how they are describing you, your topics, and your podcast – these are the words you want to use to describe and promote your podcast based on how your audience is talking about you.

Don't be afraid to be curious to connect with your audience to better understand them.

Take advantage of free research platforms to ask your audience a mix of closed and open-ended questions.

Keep these questions around 5 minutes, or less in length and around 15-20 questions tops.

Have around 3 open ended questions where you can learn the language your audience is using to answer them.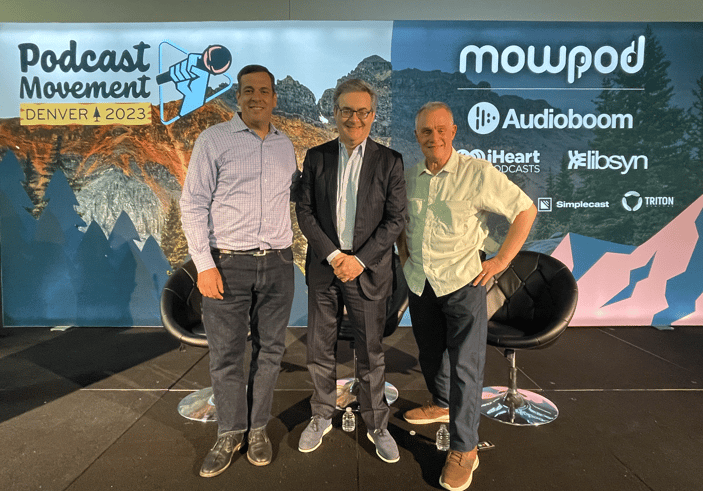 Up next, Sharon Taylor, Triton's SVP Podcast Strategy & Product Operations moderated alongside Dan Misener, Bumper, and Fatima Zaida, Quill Inc. This group dove into the other very popular topic at Podcast Movement, podcast marketing.
Some key takeaways from this session are:
Create a 30 second feed to promote your show and leave it at the top of your webpage – this is one big untapped marketing approach.

For those without a big budget, cross promotions are a good way to reach listeners – where is your audience hanging out? What social community groups do they belong to? Try to get to know your audience and find places they go to and market to them there too.

Content is key, but social media can't be your end all be all marketing strategy, you can use it as a way to share audio clips, promote your episodes and more

,

but it's not always the answer to convert them to listeners.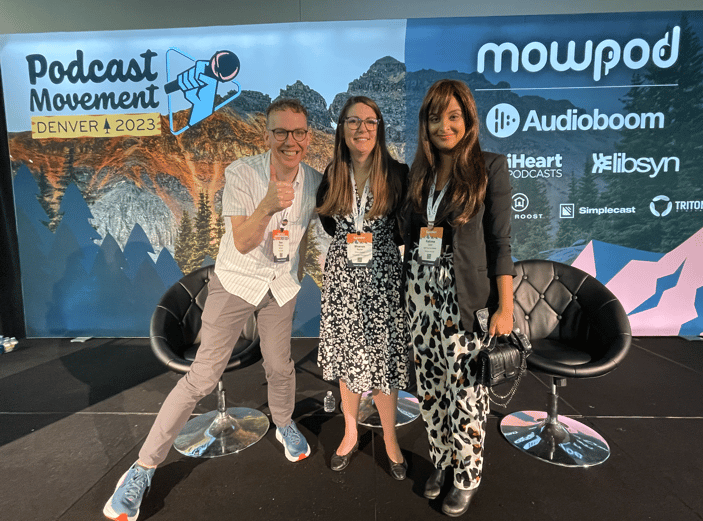 Sharon also participated as a panelist for two other sessions that dove into topics on how to understand your audience, diving into how data driven approaches can create podcast growth, and a topic that was forward thinking on what's coming next for podcast creation.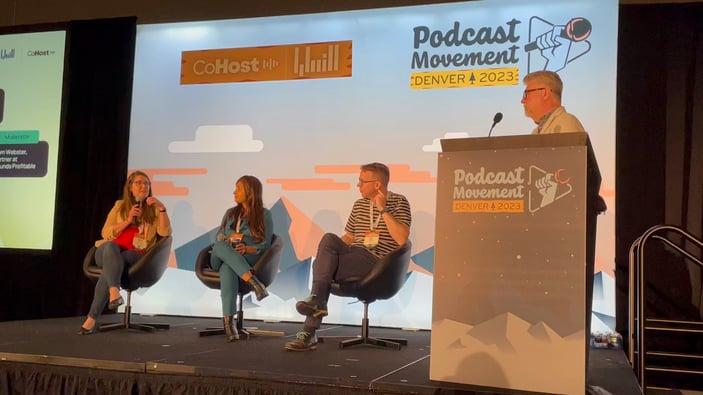 The Triton Team would like to thank everyone who stopped by our booth, took us up on our hydration station (that elevation does get you), and those who entered our giveaway that had not just one but two prizes this year. We figured we had to step up our game after the Vegas "Press Your Luck on Triton" giveaways.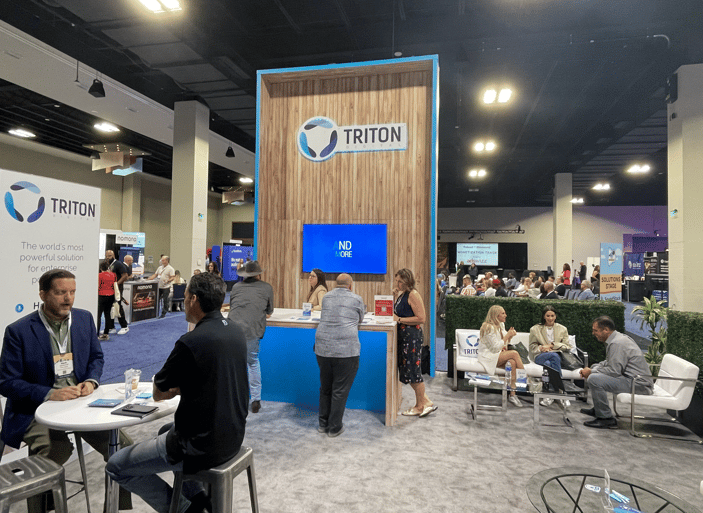 👏👏 Big congratulations to our two giveaway winners: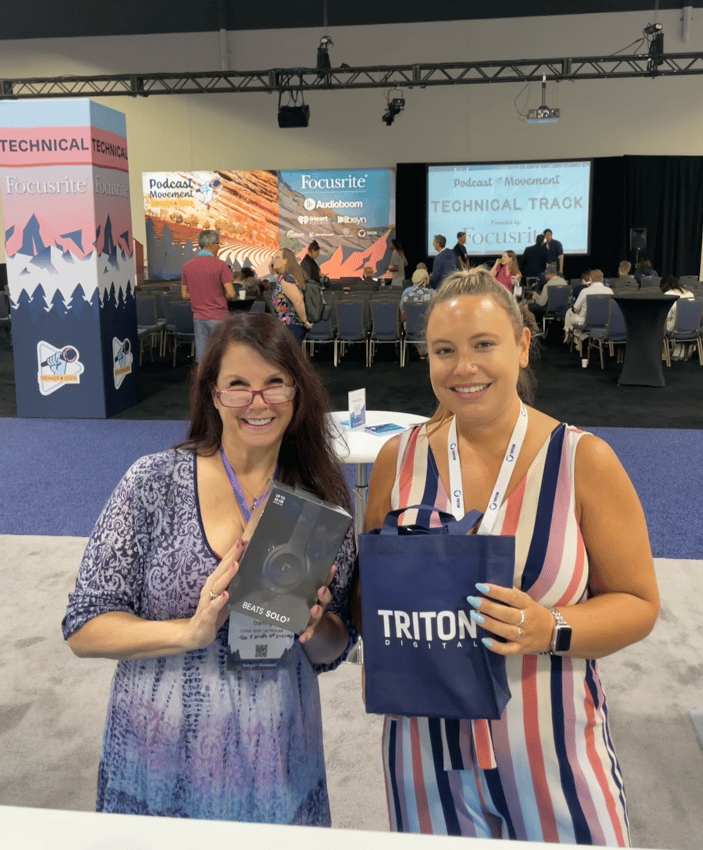 📸: Beth Darling Author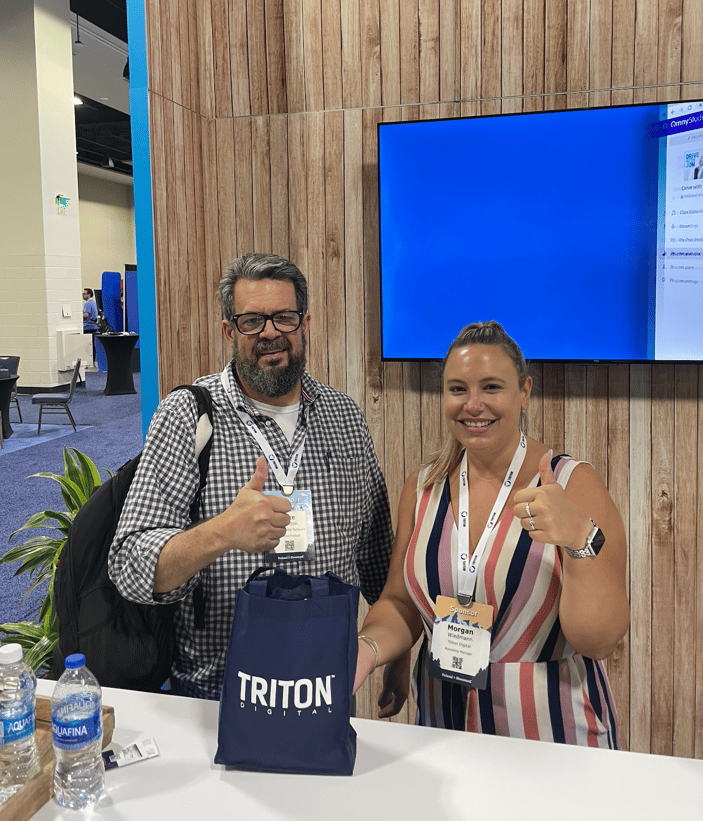 📸: Rogue Media Network
Besides the puppies, sessions, giveaways, and booth conversations the key highlight was spent outside by the Gaylord Rockies pool for a cocktail and networking event.
The attendees loved getting some fresh air, the scenic views, and of course some good ol' networking time by the lazy river.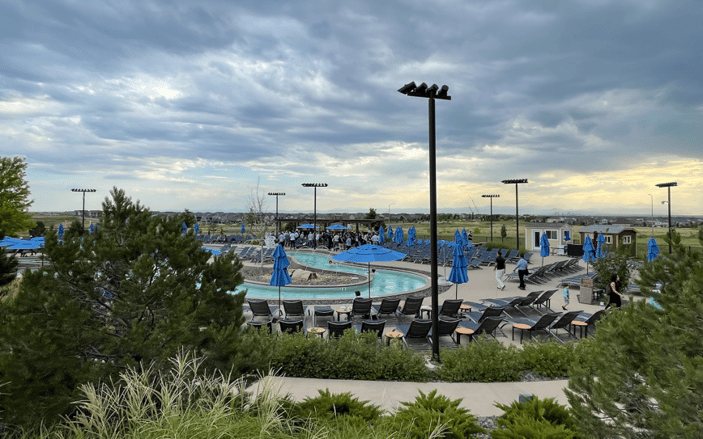 Thanks to everyone who came to the networking event, everyone who sat in for our five sessions, visited us at the Triton booth, entered our giveaway, and to my colleagues for another great Podcast Movement!
To hear what Sharon experienced at Podcast Movement (and yes, she covers that 4am fire drill that we all can't forget) and her learnings, check out her perspective here.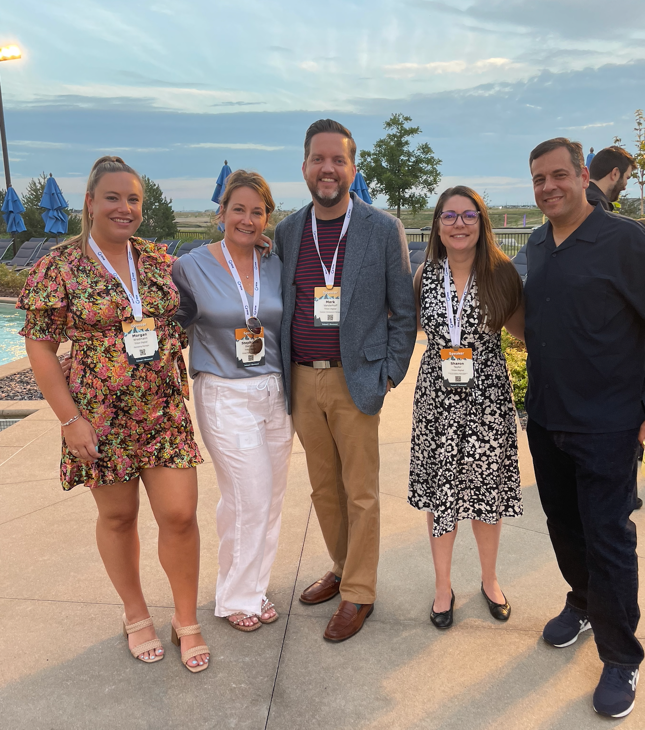 Team Triton is headed around the world this Fall for industry events, if you are planning to attend any of the following and want to connect with someone on the team, email us at solutions@tritondigital.com.
Upcoming events include:
IBC (9/15 – 9/18)

DMEXCO (9/20 - 9/21)

AdExchanger's Programmatic i/o (9/26 – 9/27)

ATS Singapore (10/3 – 10/4)

NAB NYC (10/25 – 10/26)

Radio Ink Forecast (11/15)




We look forward to seeing you at the next industry event! 😎