Triton Digital's Audio Marketplace highlights the impressive resilience of digital audio in the first quarter of 2023.
Strong first-quarter results highlight advertisers' growing confidence and incremental spending in digital audio. Despite challenging digital advertising market conditions, Triton's data reveals that digital audio remains resilient due to its reach, audience engagement, brand recall, efficiency, and cost effectiveness. Agencies and advertisers have started to prioritize audio for its contextual value, emotional connection, and the ad format's ability to cut through the clutter.
Notable Highlights from the First Quarter of 2023
The Triton Audio Marketplace (TAM) currently hosts over 300 premium audio publishers globally, connecting their inventory to over 30 leading DSPs. Live-streaming, podcasts, music services, and emerging audio publishers rely on Triton's platform for advertising and audience monetization, driven by our continuous commitment to deliver solutions for the evolving audio industry. DSPs and ad networks continue to rely on Triton's exclusive brand-safe inventory, marketplace curation, certified measurement, and expertise in the format to execute successful audio campaign tactics.
More Brands are Harnessing the Power of Audio
In Q1 of 2023, globally we saw an outstanding 83% increase in the number of unique advertisers compared to the same quarter in 2022. Triton audio campaigns are currently active in over 200 countries. The top 5 IAB categories with the largest jump in advertisers were Business, Health & Fitness, Personal Finance, Shopping, and Food & Drink. Although campaigns are executed throughout the year, spikes are centered around each country's festivities and shopping seasons. Ad networks and DSPs advocacy of the power of audio advertising through their respective local sales channels have significantly driven these increases, as they offer brands with sonic branding creative services and audience targeting solutions.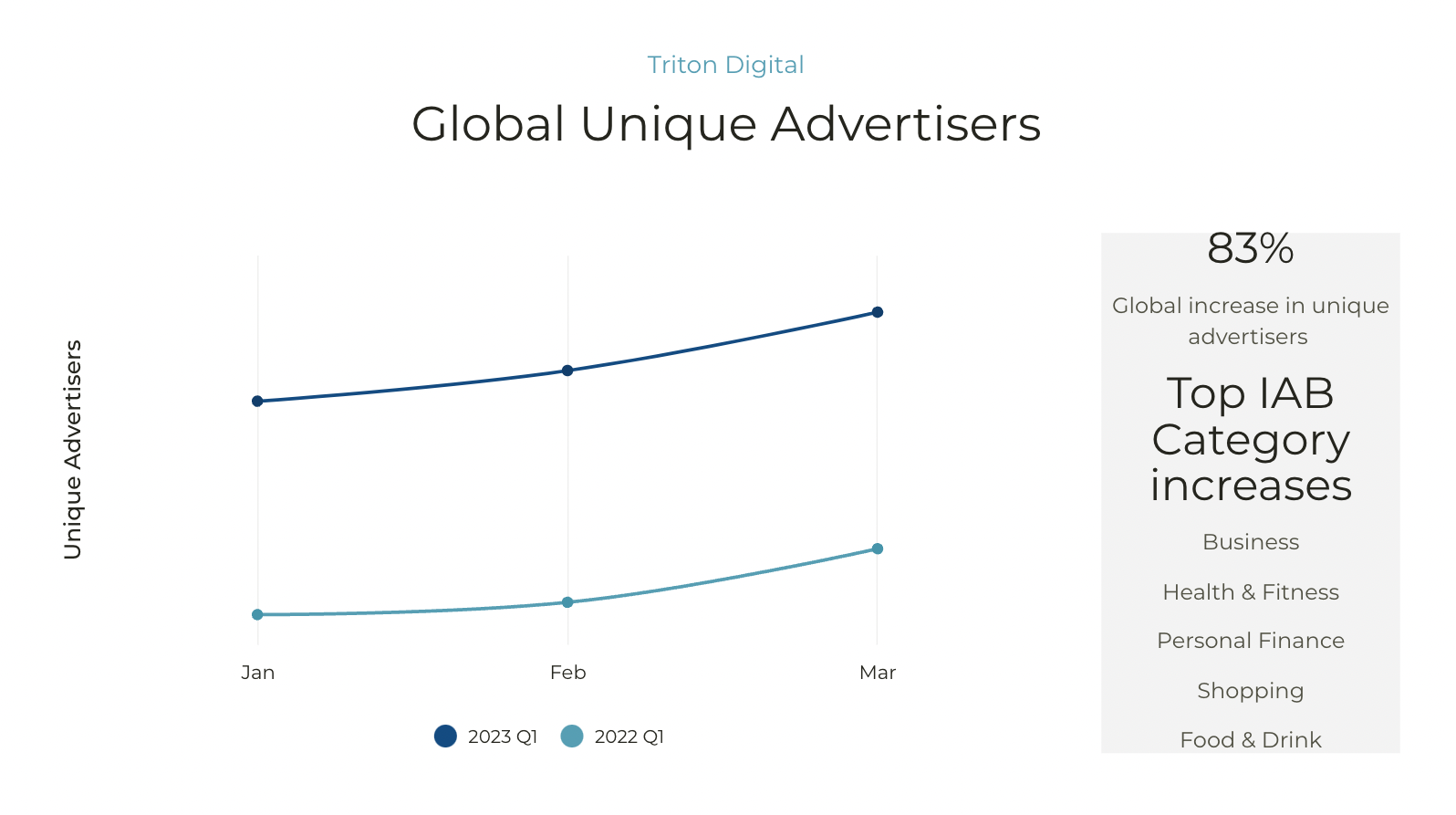 US Programmatic Budgets are Shifting Towards Direct Deals
By 2024, a fifth of all time spent with digital media in the US will go to digital audio according to eMarketer. The shift we see from direct insertion orders (IOs) to programmatic ad buys is based on flexibility, controlled ad environments and, most importantly, results. Programmatic's ability to streamline and automate segments of these deals in turn gives clients greater control. An important finding from the first quarter is also the shift towards private marketplace direct deals. In the United States, audio advertising budgets have shifted by up to 6% from open marketplace into direct deals, thereby also contributing to higher CPM yield for publishers. This trend is evident of advertisers' commitment to spend in exchange for prioritized access for carved out inventory and curated audiences.
DSPs such as The Trade Desk, Xandr, and Google DV360 are driving audio spend, but the quarter has also paved the way for the emergence of AudioTrade, Adot, Basis, PayTunes, Yahoo, Hawk, and StackAdapt as active trading DSPs.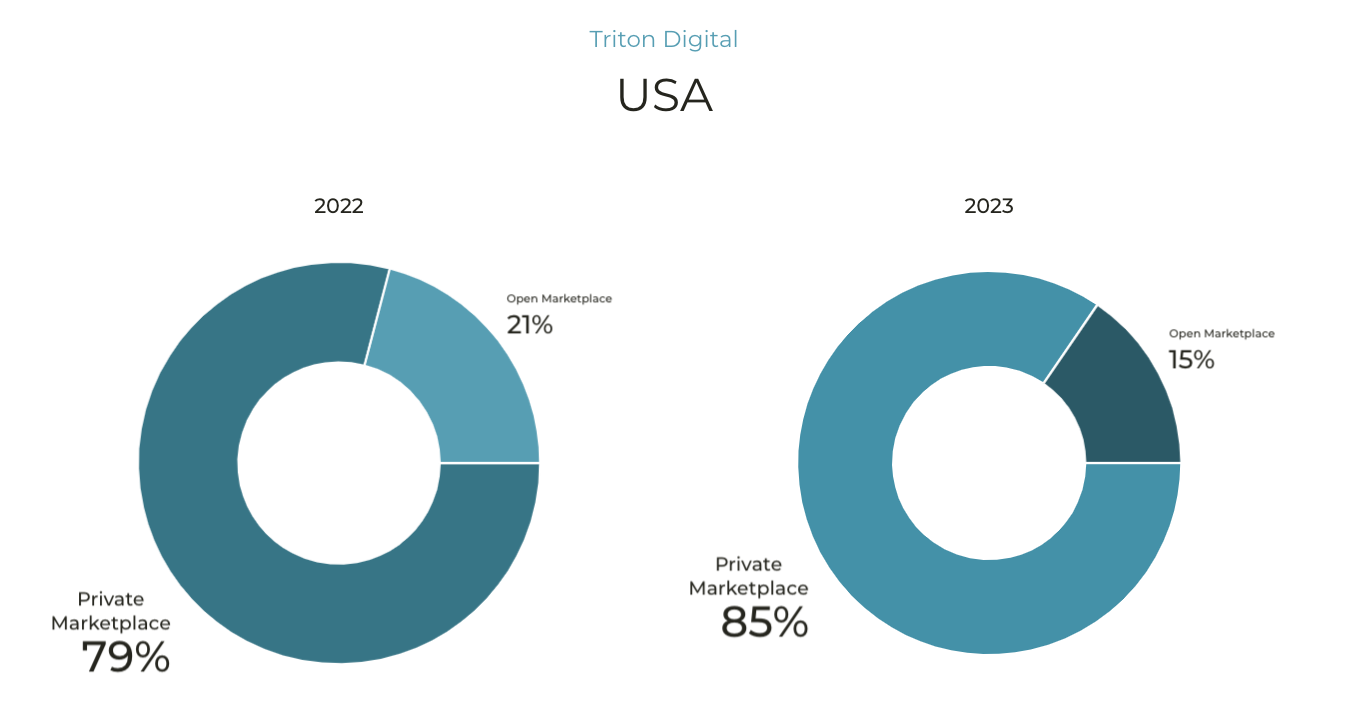 Asia Pacific Audiences Cannot Get Enough of Podcasts
With a population of more than 4.5 billion, a rich and diverse culture, and incredible resources, the potential for podcasting and podcast listening in Asia is astronomical. It is a territory that continues to exceed expectations thanks to its vibrant and immense audio culture. As more publishers onboard the exchange and as the region's appetite grows, we saw a 90% increase in impressions delivered, contributing to a 40% increase in publisher revenue in Q1. Significant growth is centered around podcasting in Australia, India, and Indonesia.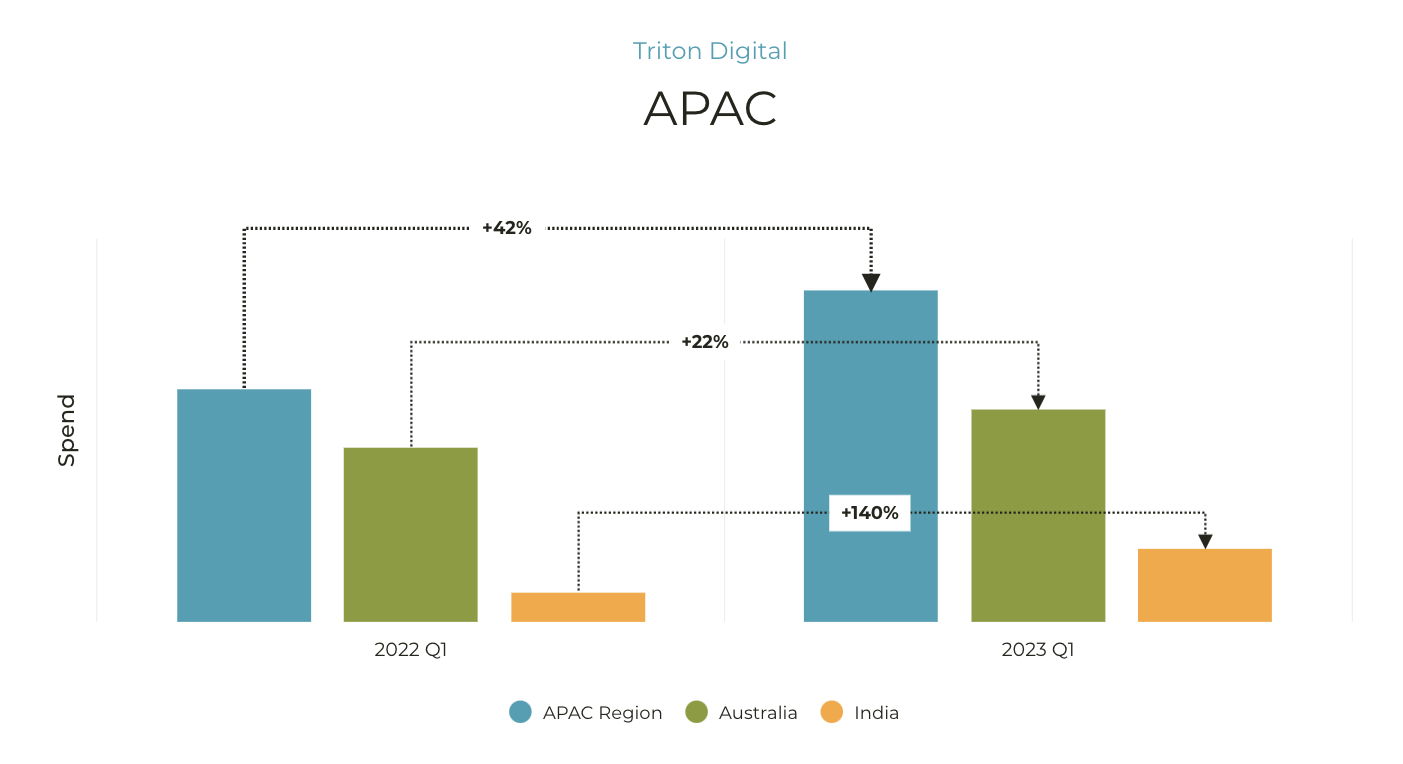 Q2 Sounds Positive
The above findings strengthen audio's rising position as a priority ad format in a multi-channel campaign. This is in addition to IAB's recent review that digital audio ad revenue grew by 20% last year with ad revenue totalling $5.9 billion.
The industry shows resilience in the face of a strained and uncertain economy. Powered by growing advertiser interest in podcasting, digital audio's growth rate has surpassed all expectations thus far. Triton expects a strong Q2 as advertisers continue to embrace audio and as budgets are released to execute campaigns in all regions, and in parallel as publishers continue to create engaging and compelling content for diverse audiences.