Understanding the specifics behind podcasting is a great way to improve your Search Engine Optimization (SEO) and increase engagement with your content.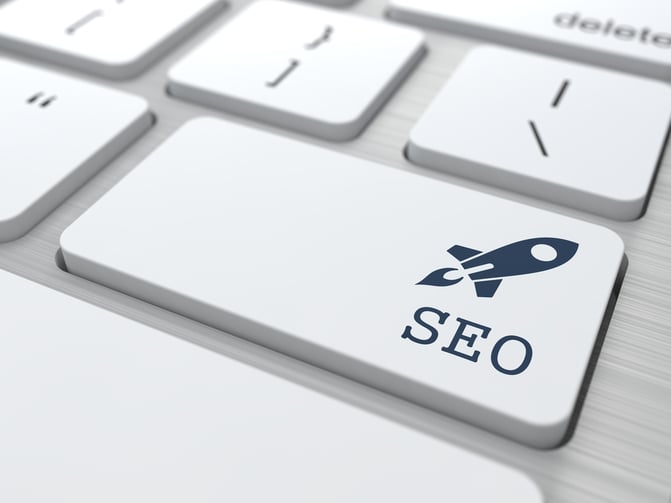 SEO is important for ensuring your show, or relevant episodes, are findable when your potential audience is looking for the content your podcast contains.
When people search for the topics your podcast covers, are you appearing in their results?
That's something podcasters are striving for, so how do they get in those search results?
A few ways to start are through your website, your social media accounts, and your referral links/backlinks to your site. All these avenues matter to your SEO and therefore deserve your attention and understanding.
Let's first focus on what can be done on, and directly around, your podcast to optimize the search engine results for your  podcast.
We recommend reading this blog after you've already got a handle on your backlink and keyword strategy .
Who finds podcasts through web search?
The results of the  2019 Infinite Dial survey revealed that of monthly active podcast listeners, a large majority (73%) found new podcasts through web search, underscoring the importance of a strong web presence for your podcast.
Optimizing your

P

odcast
Transcription
One best practice for optimizing your podcast is to transcribe your episodes, which is something that we can help with! A transcription is great for accessibility, for adapting your podcast to other forms like a blog post, and for future historians to reference your brilliant show for historical relevance.
But for SEO, you don't get bonus points for just having a transcript so much as it's about what's in the transcript — and it being available on your website. Odds are your keywords are mentioned a number of times in your podcast. If not, you may want to think about these being the right keywords for your SEO strategy?
Search engines aren't listening to your podcast to index it… or are they?
Google Podcasts, Apple Podcasts, and more directories to follow are transcribing podcasts in order to improve their in-app discovery, search, as well as their own understanding of what the podcasts in their directory are about. While not classic SEO, this is valuable.
Google goes one step further and uses these transcripts in their search index, which is how podcasts are now appearing in search results.
To summarize (or optimize) the above: It's what is in your transcript that matters for SEO, and it's important that your transcripts are made available on your website. Why? Because your transcripts contain your keywords.
About Keywords
What are people searching for? More important, which search results do you want to appear in? The answers to these questions are what should inform your keywords. And unlike transcription by directories, you control this. Selecting your keywords requires choice, research, and maintenance.
Things to think about when doing keyword research:
How competitive is a keyword?
We recommend that you do some research on who else is ranking in a keyword of interest currently. You can explore this by doing some searches containing those keywords yourself. You should try to avoid crowded, highly competitive keywords in order to get the highest ROI.
How popular is a keyword?
If you are stuck between one or more keywords, a tool like Google Trends can help you view and determine the most popular of the few.
Ideal keywords for your podcast SEO strategy are those that appear frequently in your podcast. Just make sure they are
Said often

Performing for you using the methods above
Getting your Keywords in Your RSS feed
Now that you have an understanding of what your keywords are, here's how to get them appearing in your RSS feed. Google crawls RSS feeds and indexes them in their search, so you'll want your keywords to appear in the fields below in descending order of importance.
For reference, Google crawls:
Your show title (it's important to keep your show title short and punchy, as opposed to longer and full of keywords
Your show description

Episode title(s)

Episode description(s)
What to avoid
Although we are emphasizing the importance of keywords, be sure to write for your audience — humans. Keep your podcast and show descriptions both usable and readable by your listeners, not simply stuffed with keywords (for SEO).
The Wide World of Google
For many audiences, especially in the context of podcasting, SEO could really be called GEO — because it's all about Google (at least to reach a general audience).
The world of digital marketing is a big one of course, with Google making up a huge part of the ecosystem. Fortunately, Google themselves recently released a podcast on how marketers (and yes, as a podcaster you are indeed a marketer, even if only a self-marketer to start) can interact with Google's services — and how to market digitally in 2021.
And, if you haven't yet seen podcast episodes in your Google results — they're here! Whether your search includes 'podcast', or, there's just a really relevant podcast episode to your search, they'll appear and be playable directly within your results.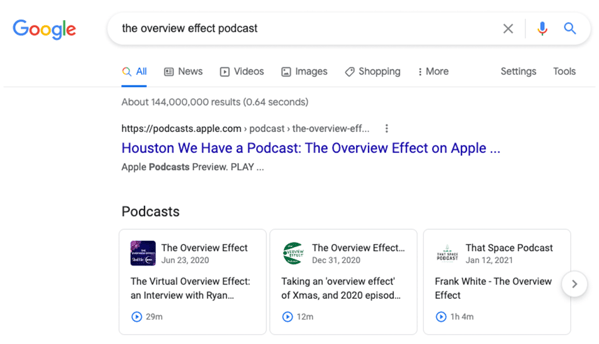 Your
P
odcast ≠/= SEO
In closing, SEO is one of those perennial questions we get asked about as a podcast host, and as you are probably aware by now, SEO and podcasting don't (necessarily) overlap. But, transcripts are a powerful tool for making your podcast content 'knowable' to search engines.
And podcast directories are already, or will likely be in future, transcribing your shows, so they can draw links between text searches and your audio.
If you are interested in learning more about this or other podcast marketing topics, please don't hesitate to reach out to solutions@tritondigital.com.
Also, be sure to check out this recent article about marketing your podcast on our blog.