The first 20 years of podcasting have been marked by remarkable achievements, transforming how we consume audio content.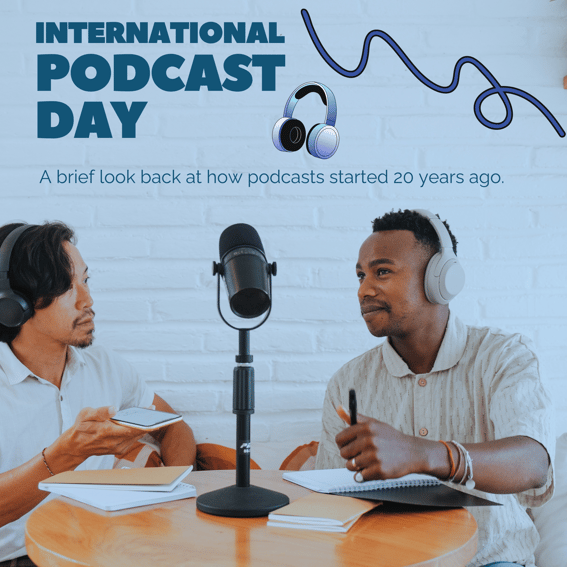 2023 is a big year in our industry, we are celebrating the 20th anniversary of the inception of podcasting. Since the first podcast was released two decades ago, its effects have revolutionized pop culture in ways no one would have predicted. From providing a new platform for standup comedy to the obsession with True Crime, the world has not stopped listening with great interest. True Crime podcasts currently make up about a quarter of the most popular podcasts, and 95% of those podcasts use in-depth reporting to cover their topics. For 20 years, podcasts have captivated a global audience, making it a mainstream pastime for millions of individuals. This medium's cultural significance has since resonated through various communication avenues, culture, and everyday life. The average download hours per listener per week has also increased by more than one hour from 2.7 hours in 2021 to 3.8 hours in 2022, according to our Triton Year End Report. This is evident in the exponentially growing popularity and the scholarly attention given to podcasting. Podcasting is still considered a youthful medium, precisely 20 years since the format's invention.
Open Source, the first podcast launched on July 9, 2003, is still going strong today. It featured software engineer and blogger Dave Winer and TV/radio personality Christopher Lydon. The duo recorded the podcast using a recorder and laptop at Harvard University to create an "audio blog." Over 20 years ago, using RSS (Really Simple Syndication) in 2003, they distributed the first audio file online.
Twenty years later, audio blogs continue to drive big business worldwide. According to the industry site Podnews, there are now 4.1 million podcasts. 42% of Americans now listen to podcasts each month and U.S. podcast revenue is currently $1.8 billion annually. Podcasts have become a constant companion for many of us, exposing us to candid conversations and uncovering exciting and sometimes scandalous stories.
The birth of podcasting and a look back at the early 2000s
Have you ever wondered how or when podcasting got started? Where did the word podcast come from, and when did it become so popular?
The Guardian columnist and BBC journalist Ben Hammersley coined the term Podcast in early February 2004 while authoring an article for The Guardian newspaper.

The first big-name podcaster is believed to be Adam Curry, a former MTV VJ. Curry started the podcast "The Daily Source Code" in August 2004 and it became immensely popular, helping to popularize the medium of podcasting itself.

In 2005, Steve Jobs, founder of Apple, introduced the idea of subscribing to a podcast by building the concept into the iTunes interface. Apple released iTunes 4.9 with native podcast support in June of that year.

In July 2005, George W. Bush was the first U.S. president to have his weekly address delivered in podcast form.

The term "podcast" is declared the word of 2005 by the New Oxford American Dictionary.

Ricky Gervais set a Guinness World Record for the most downloaded podcast at an average of 261,670 per episode in 2006.

Marc Maron launched his popular comedy podcast "WTF with Marc Maron" in September 2005; its popularity continues today.
In 2023, there are more podcast listeners than ever; 464.7 million listeners globally, and this number is expected to reach 504.9 million by early next year. Spotify and Apple Music combined have over 60 million US-based podcast listeners. There are over 5 million podcasts globally, with over 70 million episodes between them, available in over 150 languages.
As we look to the future, the podcasting industry is poised for continued growth, innovation, and diversification. Part of the appeal today is the diversity of content and content providers; podcasts today are recorded by major companies and independent creators alike. They have also opened a new channel for advertising and public relations since podcasts often reach niche audiences that other media can't. With modern technologies, expanding audiences, and evolving monetization strategies, the next 20 years holds massive potential for podcasting to solidify itself as a mainstream and influential medium.
September is a BIG month for the podcasting world! Celebrate the power of podcasts on September 30th with International Podcast Day. No matter how you choose to celebrate this special day on the podcasting calendar, there can be no denying the power of podcasts and their ability to bring people together, and that is worth celebrating!
Want to learn more about the top-performing streaming audio stations, networks, and podcasts around the world? TritonRankers.com is an interactive website where podcasters, advertising agencies and advertisers can easily navigate and filter by podcast category, publisher, and time period, gaining insights into monthly performance trends. Visit TritonRankers.com for up-to-date metrics on podcast listenership in the U.S., Canada, Australia, New Zealand, Netherlands, and Latin America. Or, sign-up for our monthly reports to have updates delivered to your inbox.