From the speaking sessions, seven to be exact...yes seven, the big blue booth, the branded lanyards and more, it was without a doubt that Triton had a strong presence at this year's Podcast Movement in Dallas.
We came in full force this year with speaking sessions. Sharon Taylor, SVP Podcast Strategy & Product Operations not only moderated a session but also participated in three panels!
Sharon started off moderating a session alongside panelists Brittany Clevenger, BetterHelp, Mike Jensen, Kast Media and Tomas Rodriguez, The Trade Desk on the growth of podcasts. This panel provided perspectives from both publishers and buyers on the latest trends around advertising revenue and strategies.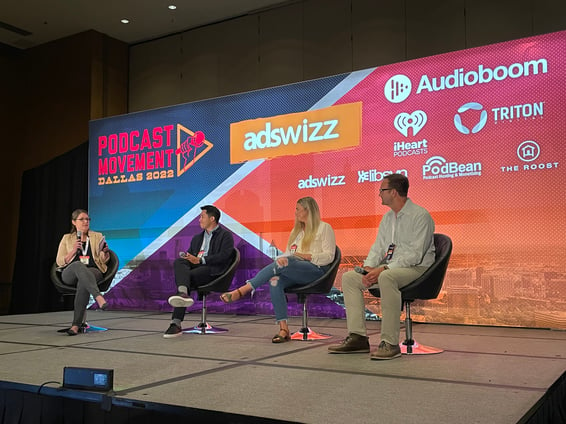 They shared how there's been growth in not just the number of listeners but also the global reach and popularity for advertisers. This panel went on to talk about how networks, shows and hosts can ensure they're taking advantage of the uptick in advertiser interest.
Sharon also participated in three other sessions as a panelist talking about podcast analytics to grow audiences, growing podcast downloads and listenership and podcasting in Latin America.
From her four sessions, although they were on different angles of the podcasting industry, they all did have one main thing in common...the popularity of this growing medium and the strive for monetization.
Next, we had Mike Chien, VP of Advertising & Product Strategy, who spoke on how to gain confidence within brand safety. This is one hot topic in the industry right now. In this session, Mike talked about how advertisers can leverage advancements in technology to ensure brand safety is taken into consideration when buying ads across podcast networks
.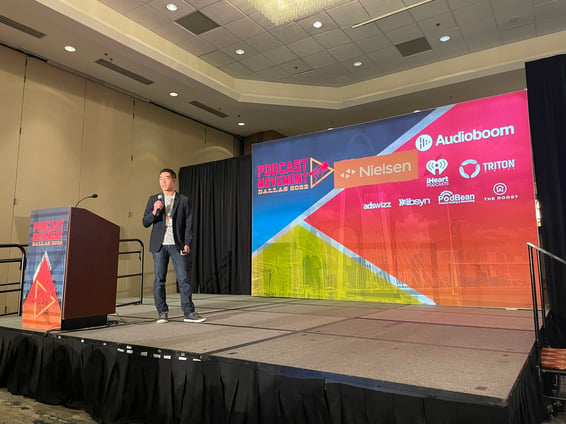 This session also mentioned how technologies can help transcribe podcast content, score episodes across categories, and provide the parameters to ensure advertisers can stay within the content and subject matter they are most comfortable in, without any slip-ups.
Mike shared three ways that advertisers can feel comfortable advertising in audio:
Advertisers have to understand what makes sense for their brand.

Advertisers need to be able to easily see what content is available that meets their criteria.

The industry needs to come up with content standards to validate scoring against.
Then we had Daryl Battaglia, our SVP of Market Development & Strategy, Audience Research, join Sarah Van Mosel, iHeartMedia, Jeff Vidler, Signal Hill Insights Inc., and Heather Osgood, True Native Media Agency speaking on how the long tail can help podcasting reach the next billion in ad dollars.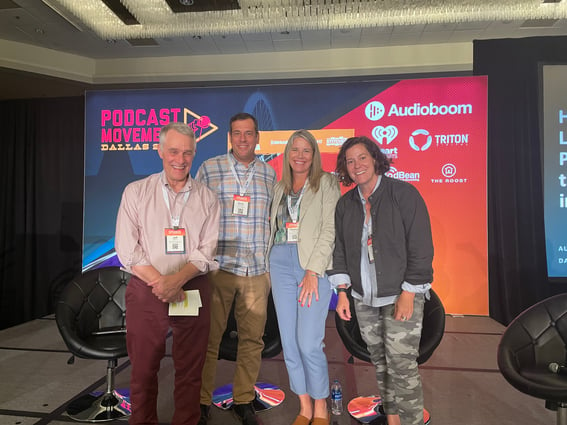 Daryl talked about how the number of podcasts with at least 1k downloads per month has increased by 28%. "Today we're seeing more successful podcasts than we've ever seen before," said Daryl.
In this session they predicted how monetization for long tail podcasts would happen in five years and that tech, education and measurement will be three main focuses.
For tech and education, these go hand in hand as the long tail podcasters will need to educate themselves on what they're doing and how to do it with technology as the backbone to show this data.
They will also need the measurement side to understand who they're reaching with advertising and where to advertise next.
For the last speaking session, we had both Sharon Taylor and Oscar Sermeno, VP of Market Strategy – Americas, on stage together alongside panelists Sergio Gonzalez, Sonoro Media and Deigo Senior, La Central, talking about the latest trends in podcasting in Latin America.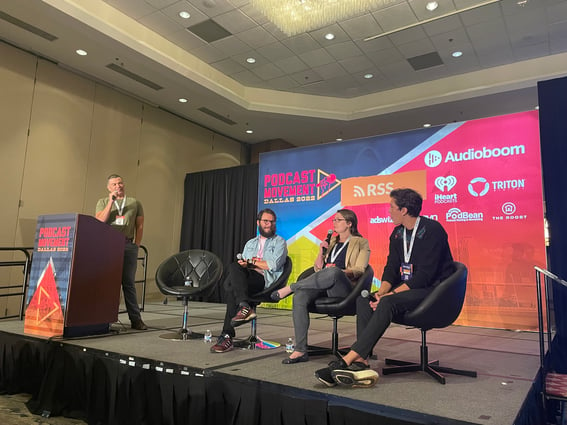 Together they shared insights and trends across content for the Spanish language podcasting market and how powerful subscription models will be for monetization.
They talked about how the industry has their eyes on LATAM right now and that it is inevitable that the money will come and their prediction for next year's Podcast Movement keynote is that it will be a Latin creator.
Predictions seemed to be a trend for this year's sessions, and we look forward to seeing what the industry will bring.
Stay tuned for more presentations and sessions from the Triton team, the next event is Radiodays Asia featuring our own Stephanie Donovan and Richard Palmer as speakers!