Super Tuesday may have come and gone, but political ad campaigns are just heating up.
Like the candidates they promote, it can be hard for political ads to stand out from the crowd due to the sheer number and frequency during the election season. In order to run a successful advertising campaign - which can lead to a successful political campaign - you need to consider programmatic digital audio advertising.
66 Million News/Talk Impressions Per Month
Talk radio listeners are some of the most dedicated and engaged audiences in the U.S. Through a2x®, our premiere programmatic audio exchange, you can connect with 9.6 million of these highly influential voters with access to over 60 million monthly news/talk impressions. Or, if you want to broaden your reach, you can tap into our network of over 346 million monthly impressions, targeting by specific criteria that matches your unique voter base.
Advanced Targeting Capabilities

Speaking of targeting, Steve Passwaiter, Senior Director of Business Development - Political at Kantar Media said it best: "It's better to reach the people that count vs. counting the people you reach." After all, if your campaign is for a local Democratic candidate, you probably don't want a Republican voter from the next state to get your ad, right?
So, how do you go about reaching the people that count? Programmatic advertising. With a2x, you gain access to advanced targeting that uses predictive modeling to reach the audience that matters most to you.
Mobile and Engaged Audiences

As Mary Meeker from Kleiner Perkins Claufield & Byers (KPCB) reported in her 2015 Internet Trends Report, people are now spending 51% of their time per day with mobile digital media and only 42% of their time with desktop. This proves that if you want to reach your audience, you need to be advertising on mobile.
And what better way to advertise on mobile than through digital radio? In The Infinite Dial 2015 study, Edison Research reported that 73% of audiences use smartphones to listen to digital radio, vs. 61% on desktop. Therefore, digital audio is a mobile-first medium.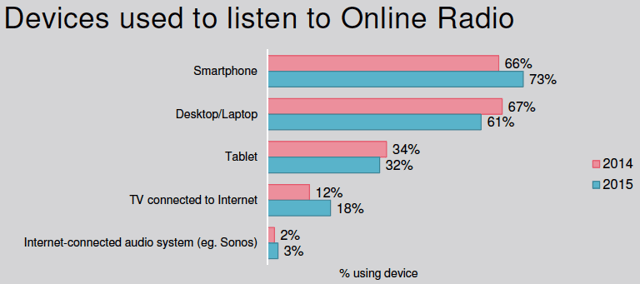 Perhaps more importantly, mobile digital audio listeners are engaged. a2x delivers a highly engaged audience, with over 41 million unique listeners 18+ spending more than 1 hour a day with our digital radio streams. What's more, audio ads have an extremely high attribution rate. Edison's Internet Radio Attribution and Conversion Study shows that 90% of mobile listeners interested in a product or service advertised on Internet radio will research it at a later time. So, if you want your candidate's opinions to resonate, consider digital audio advertising.
Contact us to learn more about a2x and how you can bring your campaign to the next level with programmatic digital audio advertising.
---