Last month, the Triton Digital team packed up their bags and ventured to Islington, London for the 2nd annual Podcast Show London to take on the largest international festival in podcasting.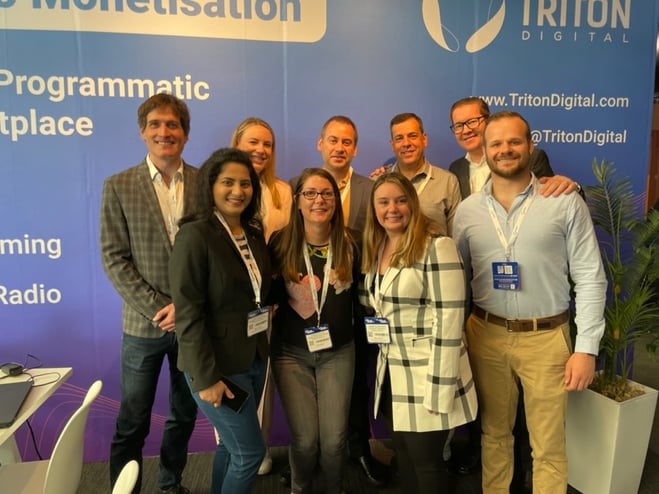 It was 2.5 days' worth of networking, meetings, educational sessions, inspiration, and more.
Some major topics that were trending across the Business Design Centre floor were on AI host read ads, brand safety vs. brand suitability, and programmatic.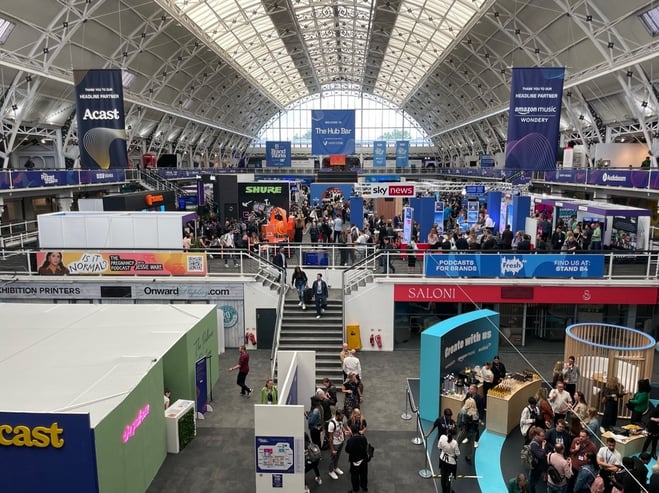 Triton Digital sponsored a booth space upstairs and this year you couldn't miss it with the branded staircase that led you right up!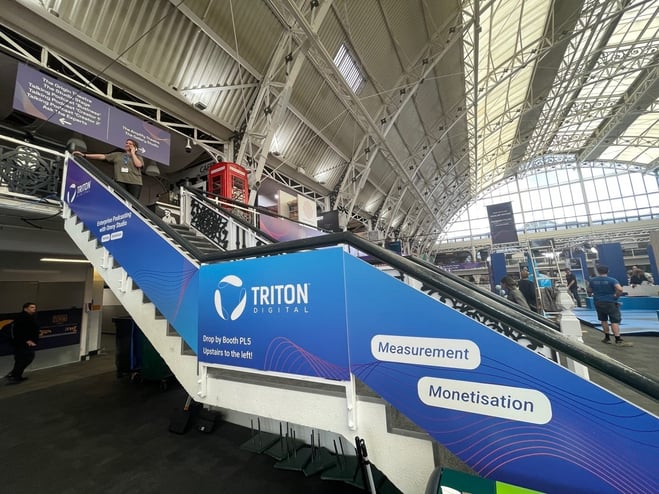 The team had great meetings with industry professionals from the world of podcasting, streaming, and measurement. They talked about all things audio, and everything in between.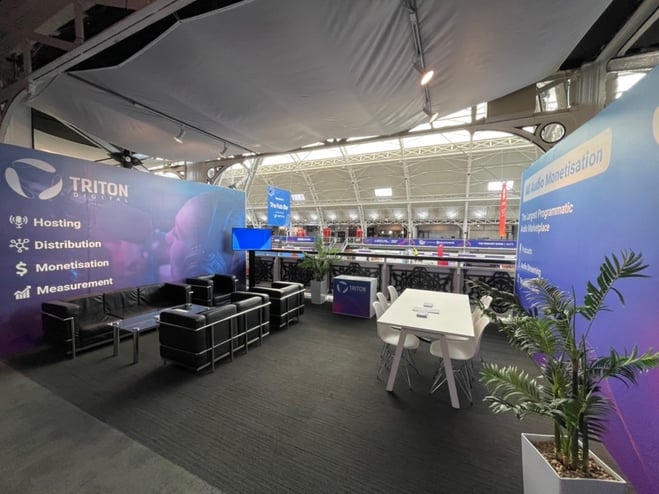 This year's event kicked off with the first ever Preview Night. It was an evening filled with a sneak peek of the show floor, a kick start to networking, seeing your industry friends, and the Podcast Show London's inaugural International Podcast Trailblazer Award.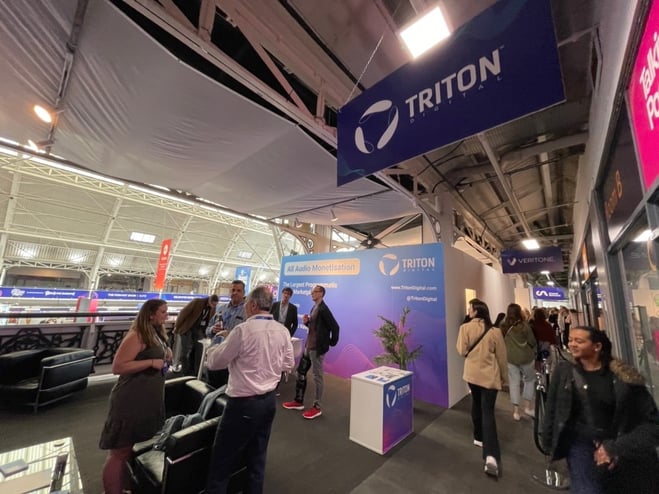 This award was presented to Ashley Flowers, Host Crime Junkie, Founder & CCO audiochuck.
Congratulations Ashley on winning this award!
Sharon Taylor, SVP Podcast Strategy & Product Operations here at Triton joined the "Ask the Experts" panel alongside Bryan Barletta, Sounds Profitable, Rebecca Dalby, Spreaker from iHeart, and Paul Cranwell, AdTonos to talk about several topics in podcasting.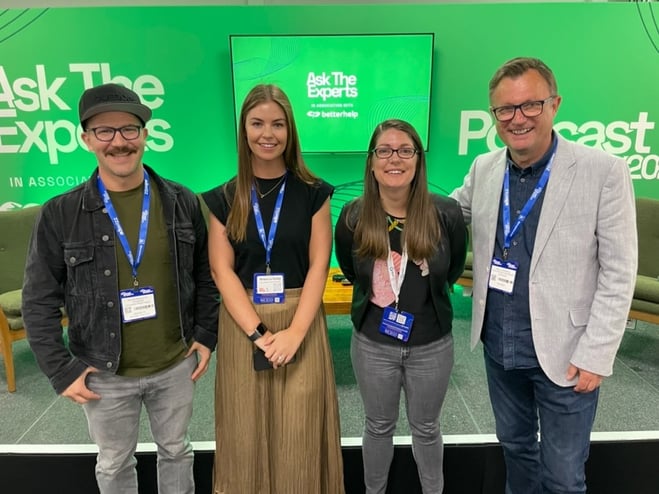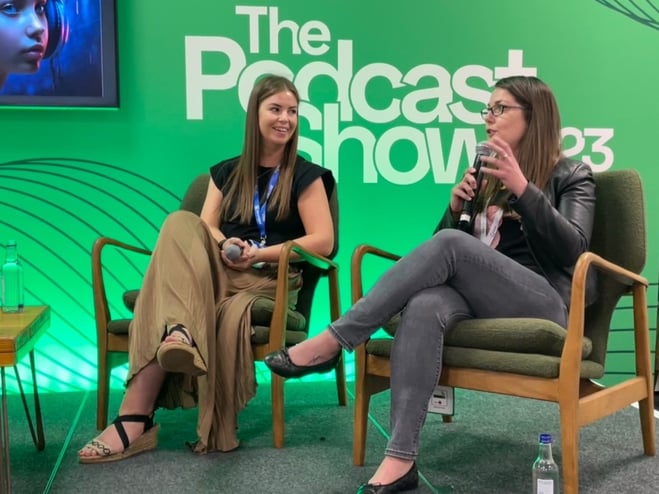 Some key highlights from this panel included:
There's still a human need for AI automation.

Brand safety vs. brand suitability – these are two different things.

For buying to scale, more people need to come into the space.

All the tech today is in English only and we have Spanish and French speaking podcasts. 

Longtail podcasts are valuable, audiences are still listening, so how do we open that up?
Up next on stage was Benjamin Masse, Triton's Chief Product Officer who spoke on the IAB UK's panel that covered a range of topics starting from the beginning of podcasting all the way to today's exciting developments. In the session, "Everything You Need to Know About the Podcasting Landscape" Benjamin zoned in on the content landscape and provided an overview of advertising opportunities.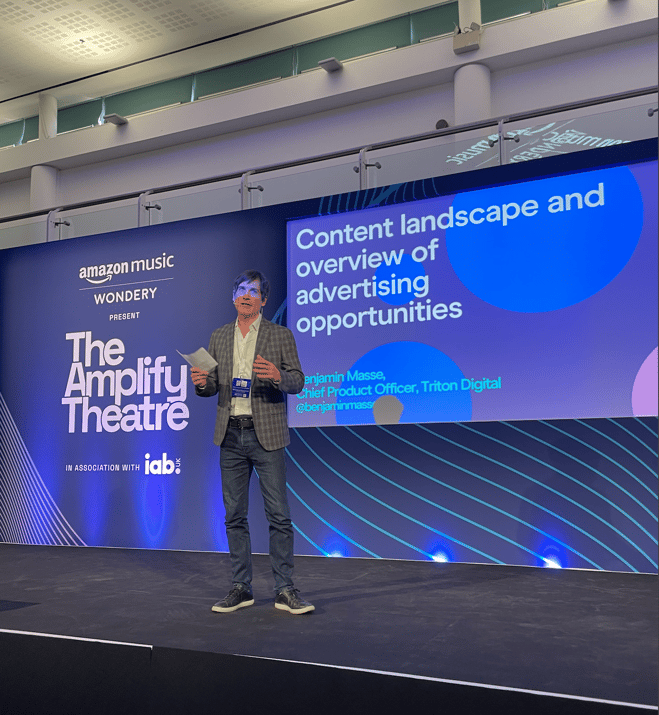 The session was a hot topic with standing room only and an audience of 500+ eager to learn more about the latest and greatest in podcasting.
Benjamin presented his update with a Q&A from ChatGPT covering topics from VAST tags, programmatic, direct ads, networks, and more.
The other IAB UK panelists (IAB's CMO, GoodStuff, Octave, and Say It Now - photographed below) focused on topics ranging from who's listening to podcasts, the evolution of podcasts, innovations in the space, and more.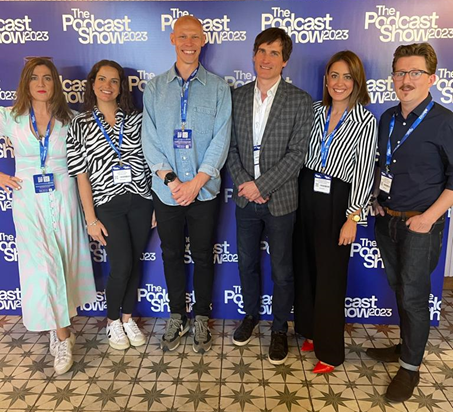 One key finding from this session included how brand safety and measurement show that the podcasting industry has matured, IAB UK shared that this is a compliment to the industry. Another notable finding was that podcasting is continuing to grow, whereas streaming has stayed the same.
Thanks to everyone who stopped by our booth, participated in our giveaway, attended Sharon & Ben's sessions and met with our team. It was truly the podcasting event of the year and the place to be! Being only in it's second year, it was exciting to see how much the industry has evolved from PodShow LDN hosting the first ever Preview Night, the inaugural International Podcast Trailblazer Award, the many educational sessions, the influencer vibes around the show floor, the networking and everything in between!
We can't wait to see what next year brings and look forward to seeing you all at PodShow LDN 2024!