Podcasts are more popular than ever. That was true last year, true now, and probably still true whenever you're reading this. Which means first impressions are important, and becoming even more so, in standing out from the crowd.
If you've browsed new podcasts lately, you can relate…
Every day there are new shows launching, and new episodes of existing shows. All 900,000+ of them!
So where should a new listener start? Or if you're a new show, how can you stand out and find your listeners?
Our first piece of advice would be to create a trailer for your podcast.
Why create a trailer?
Much like a movie trailer or a radio promo, a trailer for your podcast gives your listeners a chance to get a sense for what your show is about and what they have to look forward to without having to listen to a full episode. It's your chance to sell your show!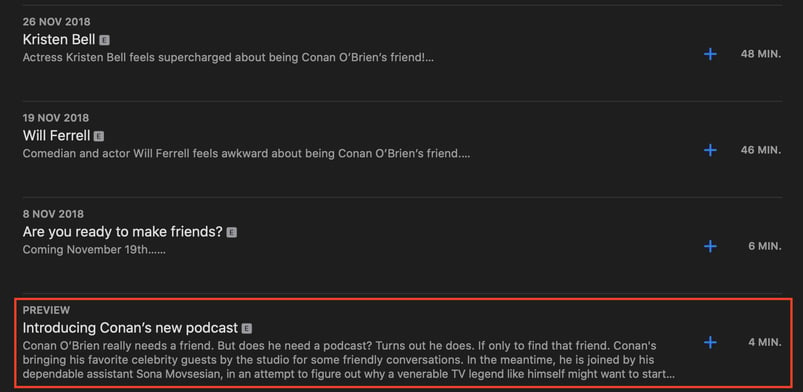 Apple Podcasts desktop app shows Preview and Bonus types
Even if you don't have a slick, punchy, highly-produced trailer with snippets from multiple episodes of your show, you can still point your listeners to a good 'on-ramp' episode where they should start.
We'll get into how to set up your trailer for two of the most popular podcast apps below, but before we do, let's look at what makes a good trailer.
How Long Should It Be?
No two podcasts are the same, but here are some general guidelines.
Try to keep your trailer around 2 minutes long; this keeps it short, informative and engaging.
It's also the perfect length for sharing on social media where attention spans are limited!
Consider having a short 30-second trailer, a 60-second, and a longer one for a variety of situations, like

embedding on websites

.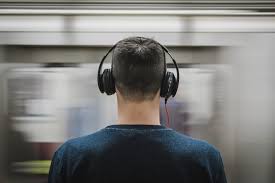 Source: Pexels
What Should Be In It?
Your general overview of your podcast should include your podcast name, what it's about, and who it's for. While you may want to have some notes for what to say in this portion of your trailer, you may not want to fully script it. Remember, it should be a teaser and doesn't need to give everything away about your podcast.
Include the best and most exciting clips of podcast episode audio.
But, be careful not to include clips that require listeners to know your personality well.
Avoid any in-jokes.
Your trailer should include one call-to-action/message for listeners. If you have a website, sending them to your website would be the ideal call to action since it is the central location for your podcast or a simple 'search for x podcast where you listen'.
Publishing your trailer
Headliner trailers
You can make animated video for social media from clips or even whole episodes of your podcast, and this is a great way to share your trailer. You can even do this right from Omny Studio with our Headliner integration.
Headliner's 'Wall of Awesome' is great for inspiration.
Apple Podcasts trailers
Apple added podcast types, including trailers, in 2018.

This made it possible for listeners in Apple Podcasts to see which episode the podcast creator has highlighted as an 'on-ramp episode'.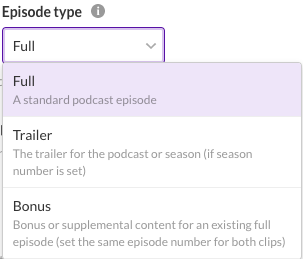 Podcast type is now part of the RSS feed standard, and you can apply these types in Omny Studio for any episodes.
These three types; Full, Trailer, and Bonus are now widely accepted in most podcast apps and directories. By using them effectively, you'll attract new listeners, and keep them engaged.
Spotify trailers
Spotify has also added the ability for a podcast to nominate an episode as a trailer, which will be the first episode a listener sees, and be marked with a 'trailer' tag.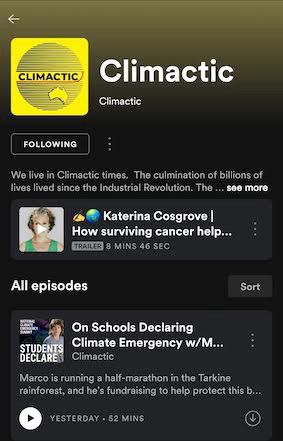 This makes it really easy to offer an 'on-ramp episode' for new potential listeners. Remember to keep it updated!
Here's a guide for selecting your trailer for your podcast in Spotify.
Or, if you haven't added your show to Spotify yet, you can follow these steps.
Video trailers
Or, you could even spring for a video trailer for a new season, or even to launch your show. Go for it!
Hopefully this has got you thinking about the first episode of your show a new listener will hear. It's important to put your best foot forward, because you'll never get a second chance at a first impression.
Happy podcasting!