Last week, our own Benjamin Masse, Chief Product Officer, and Sharon Taylor, SVP Podcast Strategy, took to the stage at Podcast Movement Evolutions in Los Angeles to talk about podcasting around the world and best practices to understand global audiences.

Didn't catch the session live? We've got you covered with a quick recap! During the session, Benjamin and Sharon turned to Triton Digital's Omny Studio for stats around the top 10 podcast content curation and consumption categories across the globe, showcasing what's trending and where the gaps are.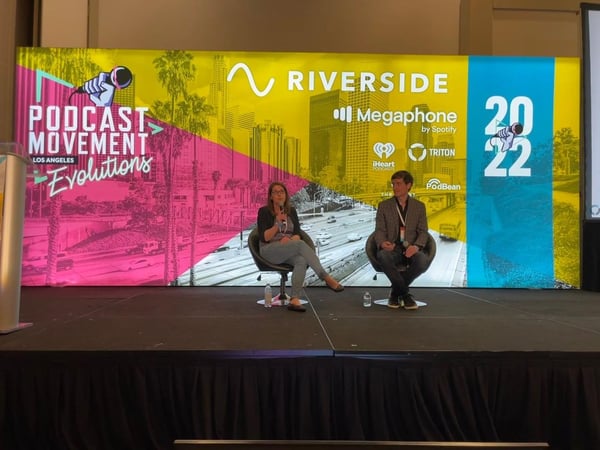 And the stats didn't disappoint, highlighting a picture of how podcasting around the world can be similar yet different!
Here's what they shared around the most popular types of podcast content created*:
APAC – The most popular podcast content category overall was News for both downloads at 38% and with 48% of podcasts created focusing on this category;
India – News also took the top spot in India for content curation, with 22% of podcasts created focusing on News, but the most popular content downloaded was Society & Culture at 44%;
UK & EU – Unlike other regions, the most popular type of podcast content created in the UK & EU was Music, with 27%, and the most popular downloaded podcasts were News at 37%;
LATAM – Last but not least, News ranked number one in LATAM as well, with 44% of podcasts created focusing on this genre, and News was also the most downloaded category at 43%
One thing is for sure: listeners across the globe are turning to podcasts for news-related topics. But what does it mean if your podcast category is not in the top category created, or even the top 10? Well, that's where filling the gaps can come into play with sponsoring shows!
Aditya Kuber, Ideabrews, India shared that "brands are interested in sponsoring shows and owning their own narrative through branded podcasts."
Echoing Aditya Kuber's perspective, Camille Sauzières, Talk Content Manager, Deezer Podcasts, added, "30-40% of podcast revenue comes from sponsorships. Almost half of Deezer listeners want native content."
Despite News not ranking in the top spot of podcast content topics created in the UK & EU, it is worth noting that News was the category most downloaded in the region, with 37% of podcasts downloaded in the UK & EU focusing on News.
Another highlight of the session was when Ben and Sharon explored advertising categories across regions to compare advertising popularity.**
APAC – In APAC, 41% of ads focused on the car category as the top performer;
India – Buying/selling cars was also the favorite in India, with 84% of ads focusing on that category;
UK & EU – Technology and computing was the most popular category in the UK, with 22% of ads focusing on that category;
LATAM – In LATAM, there was a clear winner, with 79% of ads focusing on contests and freebies.
As for global placement of advertisements, most regions prefer predominately pre-roll, except for APAC which preferred mid-roll.
APAC – 45% mid-roll
India – 58% pre-roll
UK & EU – 49% pre-roll
LATAM – 62% pre-roll
Overall, it was interesting to see the similarities and differences across the globe in terms of popular podcast categories and advertising strategies. Stay tuned for an upcoming blog, recapping our SVP of Market Development and Strategy, Daryl Battaglia's Podcast Movement Evolutions session around understanding your audience to grow your podcast!
*Data source: Omny Studio 30 days ending 3/15/2022
**Data source: Triton Marketplace, w/o 3/7/2022