As a relatively young medium, online radio often still has to fight to prove its benefits to broadcasters, its success as an advertising medium, and its overall staying power.
We're here to tell you that online radio should not be ignored.
During the Infinite Dial 2016 study, it was revealed that 50% of the total population ages 12+ listened to online radio in the last week. This signifies a huge milestone for the medium, as now half of Americans (or approximately 136 million people) are tuning in to online radio on a weekly basis.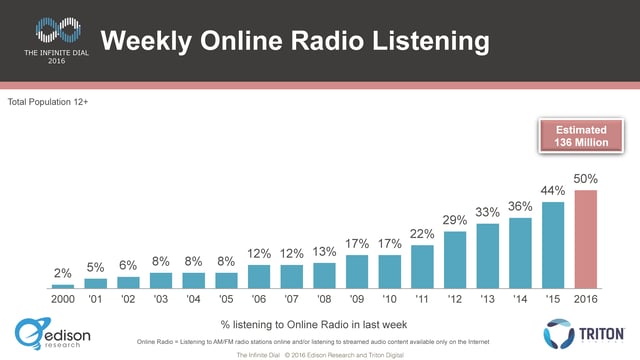 As the online radio audience continues to grow and the consumption behaviors continue to change, we know it can be difficult to stay up to date on the latest industry trends. That is why we have pulled together The 2016 Online Radio Data Kit: a one-stop-shop to get the key data points you need to be an expert in the field, including:
Total Monthly Listening
Monthly Listening by Age
Average Time Spent Listening
Listening in Car
And More...