Ad Age and global buy-side platform, The Trade Desk have published a new whitepaper on programmatic audio titled, "Programmatic and the Rise of Digital Audio". This whitepaper explores the unique opportunity presented in programmatic audio as well as revealing results from a new industry survey.
Conducted by third party research firm Advantage Business Research, the survey polls 469 U.S. marketers and agencies. The full results and whitepaper are available for download here, but we've highlighted 3 key points you need to know as a marketer in this space:
1. Digital Audio Advertising Is Expected to Double in 2 Years
On average, respondents reported to devoting 5.3% of their media strategy to digital audio over the past two years. That rose to 7.5% currently and is expected to reach 14.8% within the next two years.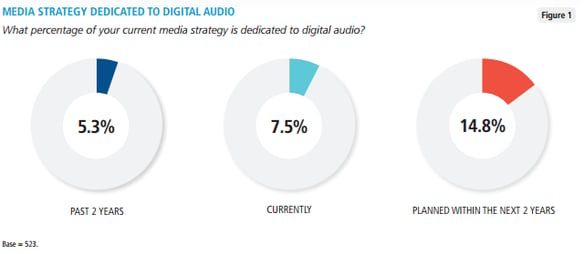 2. Digital Audio Is A Powerful Compliment to Other Programmatic Channels
Marketers are beginning to explore integrating audio into cross-channel campaigns. Early adopters are already seeing the benefits. Triton's own Benjamin Masse shared the results we have seen when using such methods.
"The addition of programmatic audio to a banner campaign can generate four times as many conversions. It's one of the better ways to measure audio lift when considering multichannel campaigns."
- Benjamin Masse, Triton Digital
3. Digital Audio Ad Budgets To Grow By Two-Thirds in Next 12 Months
The average percent of advertising budget / inventory devoted to digital audio is estimated to increase by nearly two-thirds over the coming year in the U.S., growing from 7% to 11.6%, and almost doubling internationally from 4.8% to 9.1%.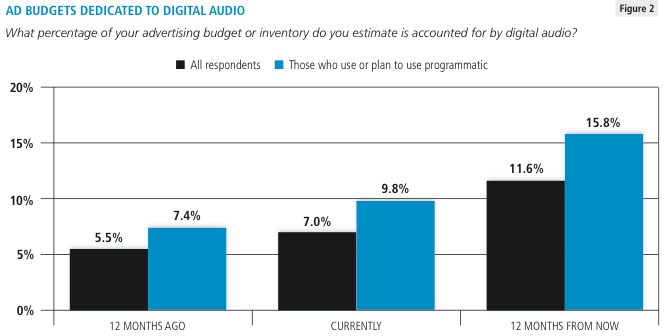 Want to learn more about the benefits of audio advertising? We've got you covered.