Well, it definitely should be, but don't just take our word for it. There are several signs indicating that the popularity of podcasts and on-demand content is on the rise, both for audiences and advertisers alike.
Below, we've compiled the data, quotes, and analysis that proves podcasting is a smart business decision that broadcasters should not just incorporate into their offering, but should heavily invest in.
Audience Trends
In March 2015, we partnered with Edison Research to conduct The Infinite Dial 2015 study. Among the data uncovered, we learned that Americans are increasingly tuning in to podcasts. In fact, monthly audio podcast consumption increased nearly 18% from 2014 to 2015.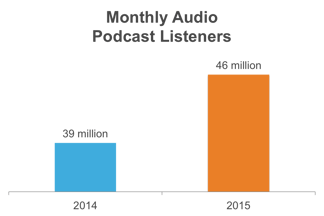 And that trend only continued throughout the year. A recent Inside Radio article reported that, "Among 163 non-commercial stations tracked by NPR, total downloaded hours of on-demand content increased 18% from January to August 2015."
Through on-demand content, whether original shows or repurposed broadcasts, you can reach your audience on their time. Podcasts give you the flexible programming you need to engage your audience and keep them loyal.
Advertising Trends
To know for sure if podcasting is a good business decision, however, you need to look at the advertising opportunities. It's great that listeners are tuning in, but are advertisers following suit?
Back in September, Advertiser Perceptions conducted a survey of 120 marketers and 164 agencies to gauge their interest in podcast advertising. Here's what they discovered:
• 41% of participants have discussed podcast advertising
• 15% are already advertising in the medium
• In the next 6 months, 9% of marketers and 11% of agencies say they will definitely advertise in podcasting
• 38% of radio buyers and planners say they would experiment with the medium
As Westwood One/Cumulus Media CMO Pierre Bouvard concludes, "These are big numbers for a platform that up until a year ago few had become aware of…This is podcasting's time to stand in the light of the American advertiser."
With advertising interest already present and growing, now is the time to increase your investment in podcasting. Audiences want it. Advertisers want it. And so should you!
How We Can Help
One way to invest in podcasting is to monetize your podcast content. Our Tap Podcast tool is designed to help you dynamically stitch pre-roll, mid-roll, and post-roll audio ads directly into your podcast episodes or audio files. The rich features within Tap Podcast, as well as its integration with our Content Delivery Network, provide the flexibility and advanced targeting capabilities you need to better control the reach and success of inserted ads.
Learn more about the advertising solution already being used by some of today's top podcast producers.