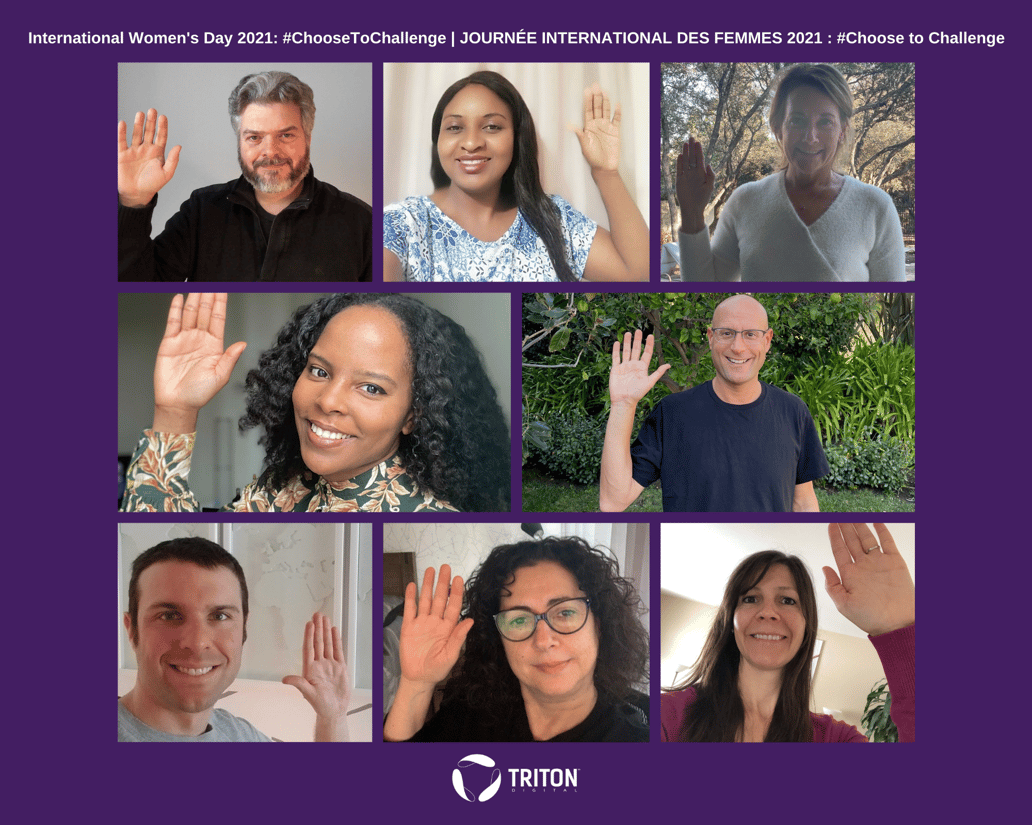 In celebration of International Women's Day, we rounded up a list of podcasts that are created by (and for) empowering women around the world. All of the podcasts below are hosted by Omny Studio and available within our programmatic audio marketplace.
Please note, the following content and descriptions are the property of the individual publishers, and are not owned nor produced by Triton Digital.
Mind Love ♡ Modern Mindfulness - Kast Media
Melissa Monte is one of today's most influential and thought-provoking explorers of the mindset and positive energy. She discusses mindset shifts, energy frequencies and modern mindfulness through raw stories, personal experience, and inspiring interviews. Melissa Monte started her career in digital media and was the Vice President of a start-up when she fully realized her passion of helping people become their best selves. Her countless hours of research and self-experimentation contribute to her vast knowledge of improving the human condition. Click here to listen.
Neteando con Kate y Jessica - Entravision Communications Corporation
Neteando con Kate y Jessica is a Spanish podcast created by the successful actress Kate Del Castillo and entertainment journalist Jessica Maldonado who talk about their lives, popular culture, politics, sex, and whatever else comes to mind. It is an intimate and unfiltered encounter with your best friends. Do not miss a moment of fun! Click here to listen.
Ologies with Alie Ward – Stitcher
Alie Ward is a Daytime Emmy Award-winning science correspondent for CBS's "The Henry Ford's Innovation Nation with Mo Rocca," and host of "Did I Mention Invention?" on the CW. She also appears on Netflix's science series "Brainchild" and Science Channel's "How to Build Everything." Previously, she was the co-host of the GE's series "In the Wild" with co-host Adam Savage of Mythbusters and a contributor on Cooking Channel's ongoing show "Unique Sweets." Click here to listen.
Call Your Girlfriend - Stitcher
Call Your Girlfriend is a podcast for long-distance besties co-hosted by Aminatou Sow and Ann Friedman. Every week, Aminatou and Ann call each other to discuss the intricacies of pop culture and the latest in politics. Aminatou Sow is a United States-based businesswoman, digital strategist, writer, podcast host, and co-founder of Tech LadyMafia, while Ann Friedman is an American magazine editor, journalist, podcaster, and pie chart artist. Click here to listen.
It's A Lot with Abbie Chatfield - Nova Entertainment
A conversational style podcast by The Bachelor Australia Season 7 Runner up Abbie Chatfield, aiming to be just like having a thoughtful conversation while having a wine with your friends. Abbie and her guests will answer listener questions, doing the best to give her advice about dating, friendships, sex and all other facets of life and then do a deep dive into a topic of interest. Click here to listen.
Jout Jout de Saia – Globo Radio
Jout Jout fortnightly breaks barriers and prejudices and makes you see things in a new way. Julia Tolezano known by the nickname Jout Jout , is a vlogueira , writer and Brazilian journalist. Julia is known for her YouTube channel - JoutJout Prazer , which currently has over two million subscribers. In 2016 he published his first book, Tá Todo Mundo Mal, by the publisher Companhia das Letras, which became one of the best sellers in Brazil. Click here to listen.
I Weigh with Jameela Jamil - Stitcher
On I Weigh, Jameela Jamil challenges society's definition of worth through weight by asking different thought-leaders, performers, activists, influencers, and friends about how they are working through their past shames to find where their value truly lies. Jameela Alia Jamil is a British actress, radio presenter, model, writer and activist. Click here to listen.
El conversatorio de Maca - Grupo Radiopolis
This podcast in Spanish is created from real life for real life. All the experiences you are going to hear are an extension of solidarity with your conscious souls, often hidden in fear, and personalities that do not belong to us. Click here to listen.
Click here to learn more / join the millions of women around the world taking this year's #ChooseToChallenge pledge.
For questions, more information, or if you are interested in advertising on any of these shows, contact marketops@tritondigital.com.