Triton Digital®, the global technology and services leader to the digital audio and podcast industry, today released new data around the consumption of online audio streams by device in the Europe, Middle East and Africa (EMEA) region.Triton analyzed data from Commercial Radio Broadcasters in EMEA whose streams are measured by the Webcast Metrics® streaming measurement service, reporting on changes in streaming when comparing weekly averages of Total Listening Hours (TLH) from the February 3 - March 3 reporting period to the March 2 - April 26 reporting period.
Data from Triton's Webcast Metrics® measurement service showed that overall streaming of online audio in EMEA increased by 1.9%, with Smart Speaker usage increasing by 25% as a result of listeners spending more time at home.
Additional insight around consumption patterns by device include a shift in consumption from PCs to Mobile and Smart Speakers, with share of streaming on PCs decreasing from 58% to 54%, streaming on mobile devices increasing from 27% to 30% (a 13% increase), and streaming on Smart Speakers increasing from 4% to 5%.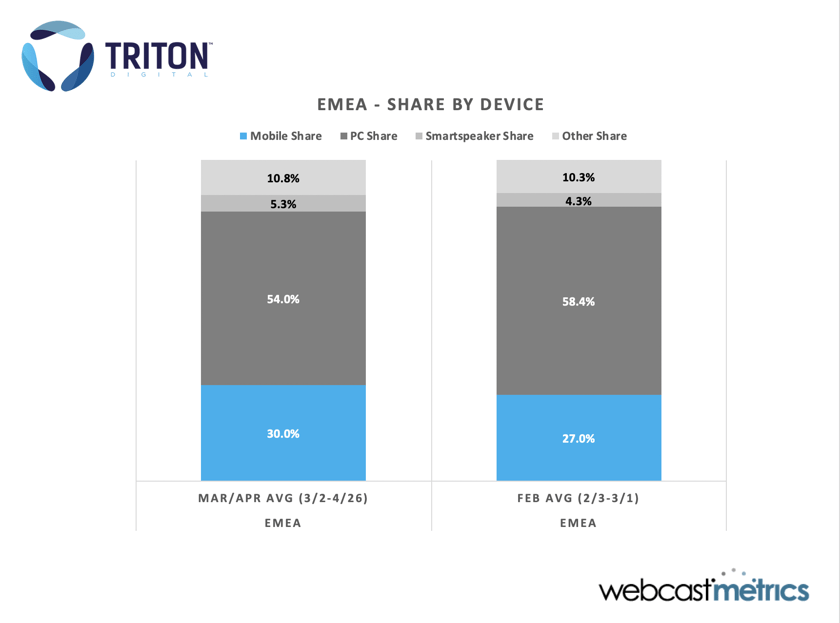 Additionally, the data shows a 23% increase in the share of streaming attributable to News/Talk formatted radio stations, while Music remained relatively flat at -0.2%, and Sports showed a decline at -14.6%.
During this time of unprecedented disruption of our daily lives, we are seeing an increase in the consumption of online audio driven by mobile devices and smart speakers. It's clear that online audio continues to be an important source of information and entertainment across devices at this time.
If you are interested in learning more, please fill out this form or contact Metrics@tritondigital.com.