As podcasting continues to evolve from niche pastime to mainstream media, many broadcasters are left wondering how to leverage this opportunity to grow digital audience and revenue. With the help of new research conducted by the Knight Foundation, we have collected some suggestions to help lay the groundwork for a long-term podcast strategy while learning to balance these unique audio platforms.
Developing a Strategy
If you are just beginning to think about your podcast strategy, don't be afraid to start small. Create one great podcast with a particular point of view that aligns with a strong brand. One way to leverage your on-air brand is to host an 'After Show' enabling your hosts to deliver long-form storytelling and in-depth interviews. Local stations can leverage local human interest stories, politics, news or sports.

The Knight Foundation also urges stations to consider developing new talent and concepts for podcast content to help attract and appeal to listeners outside of your current audience.

Once you have a strategy that works for you, test new topics and techniques, build a strong following, and replicate it with another strong brand.


The Importance of Storytelling
If your podcast strategy is a direct extension of your on-air brand, it's important to remember the differences between the two formats. Podcasts are a time-shifted medium built for longer listening with a distinct beginning, middle, and end, where broadcasts are always-on with listeners dropping in and out throughout the day.

When you are developing your format, be sure to consider the inherent differences and work with your talent to draw up a story structure and formula that is unique to your podcast show.


Understanding the Podcast Audience
According to the "Podcast Consumer Report" by Edison Research, roughly 24% of Americans with a college degree listen to podcasts monthly, as do 26% of Americans earning more than $100,000 annually. Pew Research's associate director of research, Jesse Holcomb, reports, "They're more likely to be male, young, have higher incomes, be college graduates, and live in an urban area."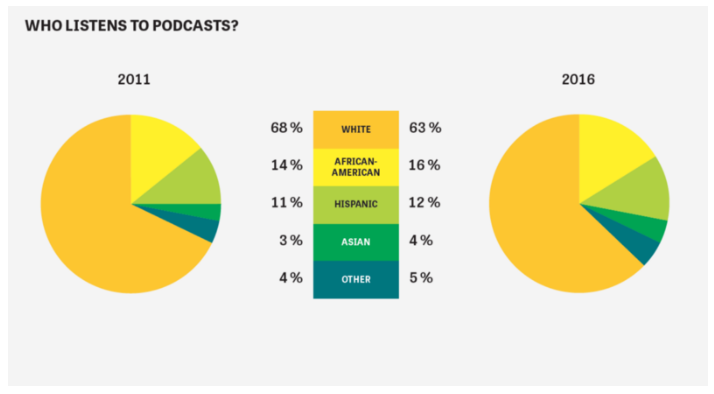 Source: Knight Foundation
The Edison Research "Infinite Dial 2017" study provided new audience engagement insights reporting that 40% of podcast listeners complete the entire podcast and 45% listen to most of it. With an 85% completion rate, this level of engagement opens new doors for mid-roll and post-roll advertising.

Finding New Listeners Through Social Media
You already have the best vehicle for promoting your on-demand audio, but it's important to reach new listeners through alternate means. Promote your podcast on social media and facilitate social sharing of audio snippets to encourage discovery.

In a recent Inside Radio article, Jacobs Media's digital expert Seth Resler suggests that stations follow a "4-1-1" plan for social media. That starts with four posts from "influencers" such as local personalities or associated musicians, one post about their content, and one "call to action" to plug a contest, promotion or advertiser. A host can post a picture at a local business, or a station could call on followers to submit photos for a new contest or sweepstakes. "There is a lot that stations can do to involve and interact with local businesses on social media," notes Borrell.


Measuring Performance
Monitor your podcast performance in addition to downloads or streams. By having a complete picture of who your audience is, how they are discovering you, and what they respond too in real-time, you can deliver higher value to your audience, and effective marketing opportunities for your advertisers.


Check out how Triton's solution, Tap Podcast, helps companies like NPR and Emmis monetize podcasts here!