Contesting has been tied to radio for decades. "Be caller # 5 to win tickets to Summer Jam". "Listen for Taylor Swift and call for a chance to win $500 in cash." It's a simple and effective way to connect with your listeners and convert them into life-long fans. After all, it isn't a huge lift or expense on your end, and listeners love it. The more opportunities you give to win, the more your listeners will engage.
With that in mind, why limit your contesting opportunities to over-the-air? You can offer even more contests to your audience online, where – coincidentally – more of your audience is tuning in and more of them want to participate.
The best part is that online contests don't have to be an added stress for you. In fact, there are contest types that you can "set and forget" until the contest is complete, without losing opportunities to engage. In fact, these types of contests often drive more engagement!
User-Generated Content (UGC) Contests
UGC Contesting is hands-down one of the most powerful contesting tools you can use to engage with your audience.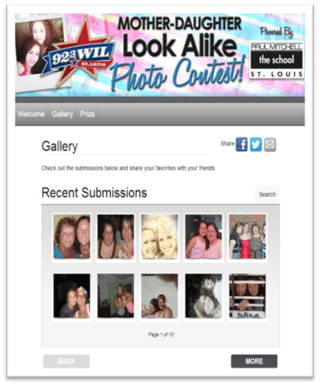 Because your audience submits the content (pictures, videos, written pieces, etc.), they have a personal attachment to it and are significantly more invested than if you chose the content. Due to this investment, you will see two major benefits:
Increased engagement with you and your content as your audience checks and re-checks the status of their submission
Increased reach due to social sharing across your audience's networks
And the best part is? Running a UGC Contest is as simple as any over-the-air contest – if not easier. Not only do you not have to come up with the content, you don't even have to pick the winner! The audience does it all.
Bracket Games
Bracket Games aren't just for March Madness (though that is obviously a great use case for them). You can use Bracket Games for any tournament.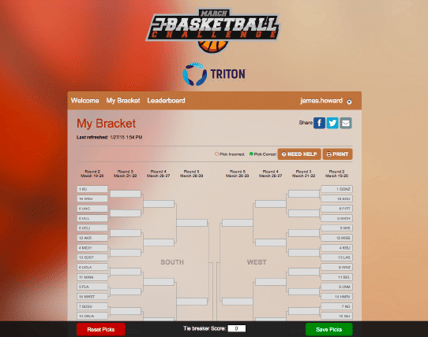 And the more local they are, the better! Imagine how excited a high school sports bracket would be to both students and parents! Or a tournament to determine the best burger in town…after all, everyone loves a great taste test!
Like the UGC Contests, Bracket Games allow you to easily set up a contest that can engage your audience for weeks (or even months) to come:
The completion of each tournament round will drive additional visits to the contest to check standings, leading to more engagement with your brand
You can combine UGC Contests and Bracket Games for the ultimate audience engagement experience
These are just two examples of great contest types that allow you to create engaging experiences without additional time or resources from your staff. If you are interested in an online contesting solution, check out Triton Digital's Complete Digital Suite, the most robust end-to-end solution in the market inclusive of everything you need to build a successful online presence, including contesting.
Contesting works. Online contesting works wonders. Contact us today to learn more.