In case you missed it, French language day took place on March 20th, and English Language Day and Spanish Language Day will take place on April 23rd. According to Ethnologue, French is the 7th most spoken language, with more than 267 million people around the world reportedly speaking the language, including both native and non-native speakers.
Spanish is the second most spoken language in the world, with more than 471 million native speakers. Spanish is the official language of Spain and 19 other countries including Argentina, Bolivia, Chile, Ecuador, Guatemala, Honduras, and Nicaragua.
With more than 370 million native speakers, English is the 3rd most-spoken language around the world and is the official language in more than 50 countries.
Triton's global marketplace is rich in inventory in from all corners of the world. Below you will find a few insightful graphs on the English, French, and Spanish-language inventory within our programmatic audio marketplace.
Device Language vs. Station Language
Did you know that although a listener may be listening to audio in one language, it does not necessarily mean that their device is set up in that same language?
Data collected in our programmatic marketplace shows that the device and the station language are the same in more than 80% of the cases for any of the three languages.
English stations or shows have a higher penetration of devices set in other languages, including French and Spanish.
Additionally, English has a higher percentage of devices when ad calls are being made by stations or shows in French or Spanish.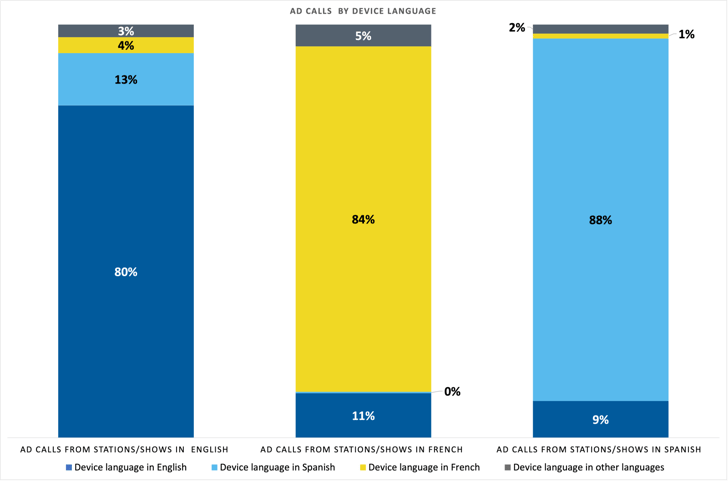 Mobile Operating System vs. Station Language
When we think about what device operating system is the most popular in a specific audience, we also look at the station language.
The graphic below illustrates the differences between the operating systems and station languages, highlighting that a large majority of those that listen to Spanish stations use Android devices.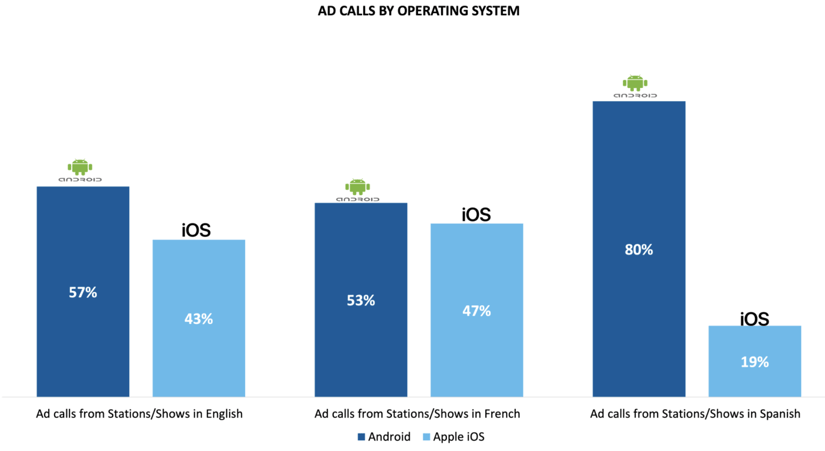 In terms of operating systems by country, we see a relatively even split between Android and IOS operating systems in counties where English is the first language.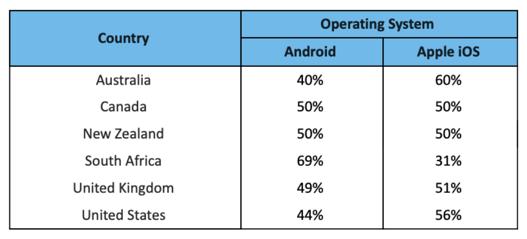 Apart from France where the divide between iOS and Android operating systems are even, more listeners in the Northern Hemisphere tune into French-language stations using iOS devices than Android devices.
On the other hand, in the Maghreb region, Android devices remain relatively dominant over iOS devices except in Morocco, where more ad calls are made from iOS devices than Android.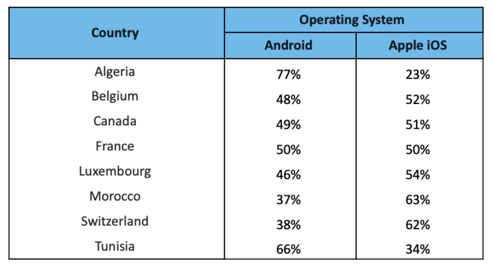 As for Spanish stations, Android is the primary operating system for ad calls, with iOS representing a mere 20%+ of ad calls from stations and shows in Spanish.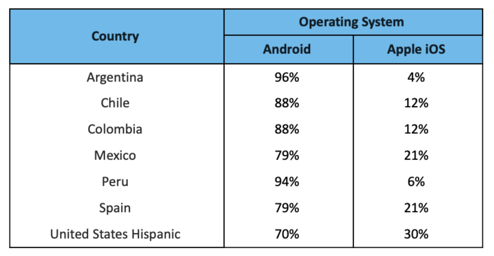 To learn more about our programmatic marketplace or the wide array of inventory within it, contact marketops@tritondigital.com