Triton Digital has released its monthly digital audio Top 20 Ranker for June 2015. The Ranker is a listing of the top-performing digital audio stations and networks measured by the Webcast Metrics® audience measurement platform.
Total Listening for All Measured Clients
All measured clients within the Domestic U.S. showed 4,198,667 Average Active Sessions (AAS) during the Monday-Friday 6:00AM-8:00PM daypart, and 3,547,002 AAS during the Monday-Sunday 6:00AM-Midnight daypart.
Year-Over-Year Growth
June showed positive growth in both dayparts when compared to June 2014. AAS within the Domestic U.S. grew by 40.7 percent during the M-F 6A-8P daypart, and 45.5 percent during the M-Su 6A-Mid daypart.
Top Markets
Looking at the top 20 markets, St. Louis showed the largest listening gain with a 16.8 percent increase in AAS, followed by Miami, New York, Houston, Minneapolis-St. Paul, Detroit and Los Angeles.
(M-F 6A-8P, June 2015 vs. May 2015)

Top Formats
The Adult Contemporary format showed the largest listening gains with a 10.0 percent increase in AAS, followed by Modern Adult Contemporary, Country, Classic Rock and Top 40 (CHR).
(M-F 6A-8P, June 2015 vs. May 2015)

Top Devices
iOS led with 39 percent of listening taking place on an iOS device, followed by Android at 31 percent, Flash Player at 8 percent, and Google Chrome at 7 percent.
(M-F 6A-8P)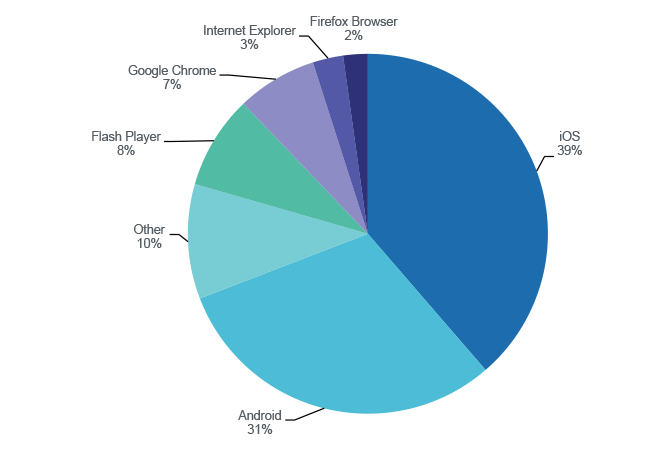 Mobile vs. Desktop Breakout
Mobile listening represented 75.7 percent of total listening in May 2015, compared to 24.3 percent on desktop. Trending for the first six months of 2015 is charted below.
(M-F 6A-8P)