Triton Digital has released its monthly digital audio Top 20 Ranker for August 2014. The Ranker is a listing of the top-performing digital audio stations and networks measured by the Webcast Metrics® audience measurement platform. Key findings of the August 2014 Ranker include:
Compared to August 2013, August 2014 Average Active Sessions (AAS) grew in both the M-F 6A-8P daypart (14.1%) and the M-SU 6A-Midnight daypart (14.6%).
Looking at the top 20 markets, Phoenix showed the largest listening gain with a 27.8% increase in AAS (M-F 6A-8P), followed by St. Louis, Tampa, Atlanta, Philadelphia and Washington.

The gain in Phoenix could be attributed to the two storms that hit Phoenix on August 12th and August 19th causing flash flooding and power outages across the valley. Motorists were stranded on the highways and mandatory evacuations were issued to certain areas.

The gain in St. Louis could be attributed to the shooting of Michael Brown. On August 9th, a police officer shot and killed Michael Brown, an unarmed 18-year-old teenager in Ferguson, MO, a suburb of St. Louis, sparking anarchy in the region. Protests turned violent during the ensuing week. On August 16th, Missouri Governor Jay Nixon declared a state of emergency and imposed a curfew from midnight to five a.m. in Ferguson.
The Adult Contemporary format showed the largest listening gains with a 23.8% increase in AAS (M-F 6A-8P), followed by Top 40 (CHR), Hot AC, Classic Rock, News/Talk, Country, and Classic Hits.

During the M-F 6A-8P daypart, 32% of listening took place on an iOS device, followed by Android (28%), and Google Chrome (10%).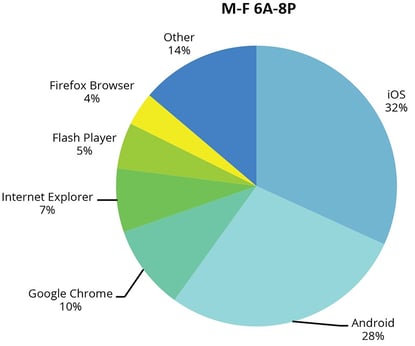 * The category 'Other' consists of devices, types and browsers that are less than 2% of total audio consumption and audio consumption that cannot be classified.