Earlier this month, Triton Digital's SVP of Measurement Products and Strategy, Daryl Battaglia, had the pleasure of participating at this year's asi International Radio & Audio Conference, to discuss the future of audio measurement.
For 31 years, asi has held annual conferences to cover key developments in advertising, marketing and media. In his presentation, "Combining Audio Streaming Logs & Panel Measurement," Daryl walked through the basics of streaming log measurement, how it can supplement panel measurement, and best practices to approach that integration.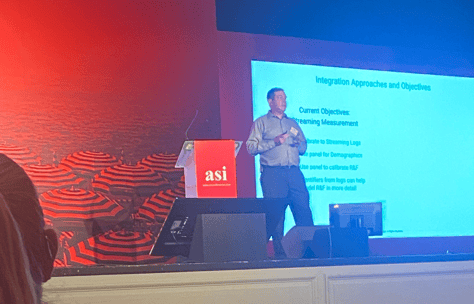 Streaming Radio listening is on the rise, and comprehensive measurement of that audience is needed. Current metering technology is not able to detect wireless headphone or earbud listening, and panel sample sizes are not large enough to measure all streaming audiences. And this is where combining panel-based measurement and streaming logs comes into play.
Today's fragmented media landscape consists of various devices, players, and applications – requiring a new, multi-sourced approach to measurement. Panel and streaming log measurement each has its own advantages, which complement each other well. Panels enable persons-based reach and frequency measurement, and insight into the demographics of the audience. Streaming logs can provide an accurate count of every streaming listening session, even for smaller stations and time periods.
In his session, Daryl talked about the benefits of a hybrid approach to streaming measurement, to accurately measure the streaming audience, and to model reach and frequency in greater detail. He also shared how a hybrid approach can enhance over-the-air measurement in the future, including overlaying purchase or interest segments.
However, to be able to leverage streaming log data and integrate it with panels, expertise with the log data is required. The vast amount of data must be normalized, creating usable data that is fair and consistent across publishers. An understanding is required of the anomalies in the data across different listening players/applications, with Invalid Traffic and other non-human streaming sessions that must be filtered out, and the various measurement crediting rules required. This is an important step prior to integrating with panel data to create a hybrid measurement solution.
"In the future, I foresee big data from streaming log measurement being integrated with panel measurement," stated Daryl during his session. "That will become a widely accepted practice in audio measurement."
Audio continues to evolve and become even more fragmented through emerging avenues such as podcasts or on-demand audio, and new methods and data will soon be required. As we work with our publishers partners and panel-based measurement companies to explore hybrid audio measurement, Daryl's presentation outlined exciting possibilities to help move the industry forward.
To learn more about how Triton Digital's streaming audio and podcast measurement solutions are best-in-class, providing the world's most reliable and validated data around how, when, and where streaming audio and podcast content is being consumed, visit: https://www.tritondigital.com/solutions/audience-measurement/details, or contact solutions@tritondigital.com.