Why Triton Digital enabled publisher-supplied RSS transcriptions within Omny Studio
Every 30 days, within our podcast platform, Omny Studio, publishers distribute millions of minutes of spoken-word content — an amazing amount of information! It does pose the question though — with so much spoken word content being published every day, how can publishers ensure that their words are reaching the right ears? And how can listeners find the most relevant content to them?
We here at Triton Digital believe that audio transcriptions will help to answer those questions and that the relationship between audio and text will play a key role in the ongoing evolution of digital audio distribution. This is why we have enabled the ability for publishers to distribute publisher-supplied transcripts via their RSS feed.
What are 'publisher-supplied transcriptions?
The transcript RSS tag as proposed by the RSS Namespace Extension for Podcasting project is now implemented in Omny Studio. This means that any publisher who generates a transcript in Omny Studio can make their transcript available in multiple formats via their RSS feed automatically.
Omny Studio already has a suite of podcast transcription offerings, including:
Transcript generation from 3 different 'engines' (basic, premium and human)

A transcript editor

A transcript embed player

Omny.fm (web) transcript playback

Headliner (social video) transcript integration for video generation
You can read more about these options and some ideas on why you should publish your transcript in this blog post.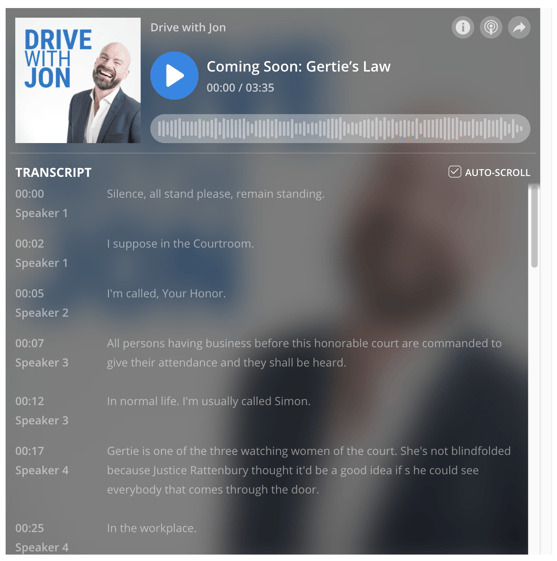 Omny Studio's transcript embed player
Why was this option added to Omny Studio?
The major podcast listening platforms (Apple Podcasts, Spotify and Google Podcasts) have all experimented with or are actively pursuing transcript search.
Spotify's proposed playback for podcast transcripts. Source: Spotify
As The Verge points out, Spotify's ambitions to play the transcript alongside the audio "is an especially helpful feature for people who want to scan and move around a podcast, possibly to hear a specific segment".
The future 'transcript enabled' possibilities in audio are very exciting and it's easy to see that the relationship between audio and text will pave the way for audio to become the first-class digital citizen it deserves to be.
However, all of the services above use transcriptions that they generate for publishers. A podcast is distributed to Apple Podcasts, Google Podcasts, and Spotify and then each of those platforms generates its own transcription of the content. The challenge with this is that while auto-generated transcripts are improving in accuracy all the time, but they struggle to get names and places correct, which is often the most important information.
"Anything that is a made-up name or company name is likely to be misinterpreted by the bots: and could lead to confusion," says Cody Boyce, the founder and CEO of Crate Media in James Cridland's great article on this topic.
It's also very inefficient for the platforms to transcribe the same audio over and over! We believe it makes more sense for publishers to supply the transcript of their podcasts to the listening platforms, rather than the other way around. If a publisher generates a transcript of an episode, then that should become the source of truth.
While not all major podcast apps have agreed to use publisher-supplied transcripts (yet, some have), we think it makes sense for them to consider doing so in the future so as a major hosting platform, we took the first step.
What's next for transcriptions in podcasting?
Our team views Omny Studio's transcriptions as a key component to additional enhancements in the world of enterprise podcasting. The future of audio is exciting, and the Triton and Omny team remain committed to continuously innovating and evolving our platform and the tools to provide the utmost value to our users.