Today we announced the launch of a new Shared Listeners tool within our podcast platform, Omny Studio.
The tool allows publishers to determine how many listeners (as defined by the IAB's Listener Metric) are unique to a particular show and/or shared across other programs in their network. This valuable insight helps publishers make more informed decisions around their cross-promotional strategies by allowing them to evaluate, identify, and leverage the shows in their library that are attracting the most new listeners.
In this post, our Omny Studio Product Manager Mitch Secrett explains why we built this tool, and how Omny Studio users can get the most value from it.
What does the Shared Listeners Tool do exactly?
The Shared Listeners Tool allows users to see how many listeners of a program or network also downloaded an episode of other programs or networks in their organization.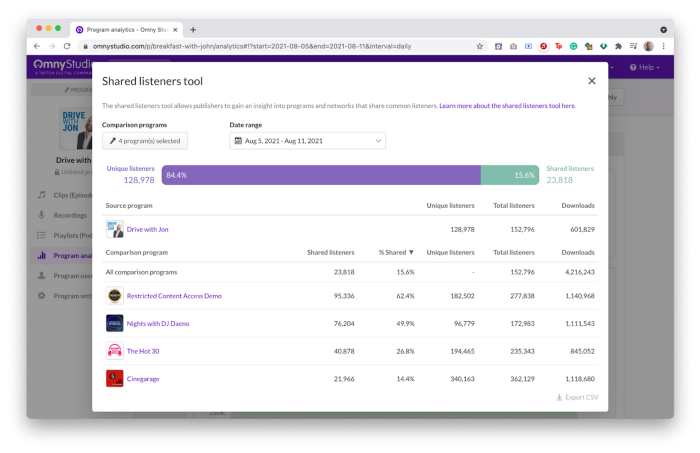 What this looks like in the UI can be seen above. If you hover your mouse over a particular value, such as the percentage of shared listeners or unique listeners, a summary of that value will appear.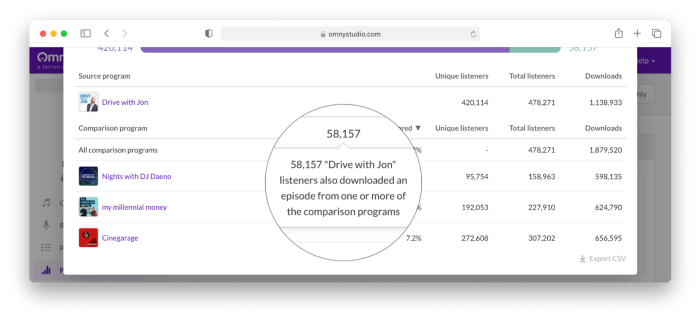 This help doc dives deeper into how to access and use the tool, which is available for all Omny Studio users.
We are excited to be the first to bring a tool of this kind to the podcast industry, enabling publishers to identify overlapping listeners between programs and/or networks as they are able to do on platforms in other mediums, such as  Facebook and  Google.
What is a "listener" in this context and why is it important?
A listener is a standardized metric defined by the  IAB podcast measurement guidelines. The metric is intended to give an indication of the overall unique audience of a publisher. Whenever you see the word listener in the tool or in this post, we are referring to this definition from the IAB:
"Listener: Data that represents a single user who downloads content (for immediate or delayed consumption). Listeners may be represented by a combination of IP address and User Agent. The listeners must be specified within a stated time frame (day, week, month, etc.)."
The amount of listeners (represented by their IP address + user-agent combination) that a publisher has will always be lower than the overall downloads for the same time period. This is because a single listener can download multiple episodes and will only be counted as one listener.
Why did you build the Shared Listeners Tool and are there any examples of what it could be used for?
Through a mix of observation and user feedback, we recognized a gap in insights, not only within our platform but within the industry at large. We strive to provide our users with the tools and data they need to build and maintain their podcast strategies. Providing our users with a way to determine which programs or networks are bringing the most unique listeners to an organization was a natural step in the ongoing evolution of our product.
This insight is particularly interesting as it relates to advertising. A publisher's overall unique audience is important to advertisers because it can help to give a clearer indication of how many unique pairs of ears their podcast ads are reaching. More ears = more dollars. A win-win!
Other use cases of this tool include:
A publisher could use this tool to identify cross-promotional opportunities within their network or organization. For example, if two shows within a publisher's catalog share a percentage of shared listeners, there could be an opportunity to build on that by cross-promoting the podcasts to the other listeners. Similarly, if the listenership of two shows from the same genre don't share many listeners, there may be an opportunity to cross-promote there in order to build overall downloads for the network.
Some of our radio publishers who beta tested the tool analyzed how their national podcast listeners compared to their local breakfast show podcast listeners. Using this data, publishers can see which markets have more crossover listeners which can help to make more informed decisions about other on-air initiatives or strategies.
There are lots of possibilities. If any additional use-cases come to mind, please let us know!
What's Next?
Triton Digital's Omny Studio Shared Listener Tool is the first of other planned enhancements to listener metrics within Omny Studio. If you have questions, comments or suggestions regarding our current tools, data, or what's in development, don't hesitate to reach out at support@omnystudio.com.