October 2016 Insights & Trends
Triton Digital has released its monthly digital audio Top 20 Ranker for October 2016. The Ranker is a listing of the top-performing digital audio stations and networks measured by the Webcast Metrics® audience measurement platform.
Our review of the October 2016 data uncovered several interesting stats about listening growth and audience trends. Check them out below.
Total Listening in October 2016
All measured clients within the Domestic U.S. reported a total of 4,867,790 Average Active Sessions (AAS) during the Monday - Friday, 6:00AM-8:00PM daypart and 4,015,202 AAS during the Monday - Sunday, 6:00AM-Midnight daypart.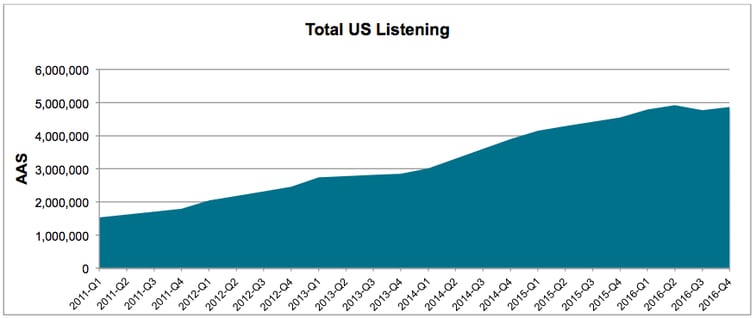 Listenership by Time of Day for October 2016
Peak hours for streaming audio listening differ between the week and the weekend. From Monday through Friday, listening peaks just before and after lunch, at 11:00am and again at 1:00pm. On the weekends, however, listening is steady between the hours of 11:00am and 1:00pm before gradually declining in the afternoon.



Top 10 Formats (October 2016 vs. September 2016)
When compared to September 2016, the Adult Contemporary format showed the largest listening gains with a 9.55 percent increase in AAS, followed by Urban Contemporary at 8.7 percent.



Top 15 Markets (October 2016 vs. September 2016)
Looking at the Top 15 Markets as compared to September 2016, Miami showed the largest listening gain with a 9.6 percent increase in AAS, followed by Phoenix at 7.04 percent.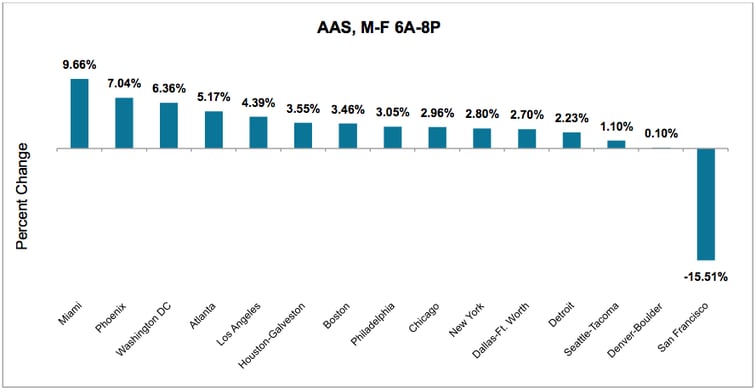 Digital Audio Trends and Insights represent all clients measured by Triton.