Websites are the crux of every digital brand. Think about it. It's impossible to see a commercial or billboard today that isn't tagged with a web address. Every company has one, and radio stations are no different.
A station's website is the foundation for all of its digital initiatives, including its audio stream, promotions, events, jock blogs, personality profiles, and much more. All of these prompt digital engagement with the station and its partners, and all live on the website. That's why Triton Digital is proud to announce the release of our groundbreaking website hosting and management platform for radio: AMP CMS.
Based on WordPress, the single biggest blog and website platform in the world, AMP CMS is rock-solid and extremely robust. But that's not all. AMP CMS is easy to manage too—whether you are a single broadcaster in a small market or you manage a large enterprise across hundreds of sites.
Multi-Site and User Management
For large broadcasters with multiple sites and users, AMP CMS brings a whole new meaning to the word management. AMP CMS handles multiple sites, users, permissions, and content syndication across large networks – all from a single interface and log in.
Unlimited, user-defined "Groups" enable AMP CMS clients to organize and segment user management, content syndication and much more. This is radically different than other CMS solutions that claim enterprise publishing but really only hardwire modules together in a parent-child relationship. AMP CMS allows you to create both parent-child and child-child relationships and then selectively syndicate your content on the fly. Here is a typical use case for "Groups":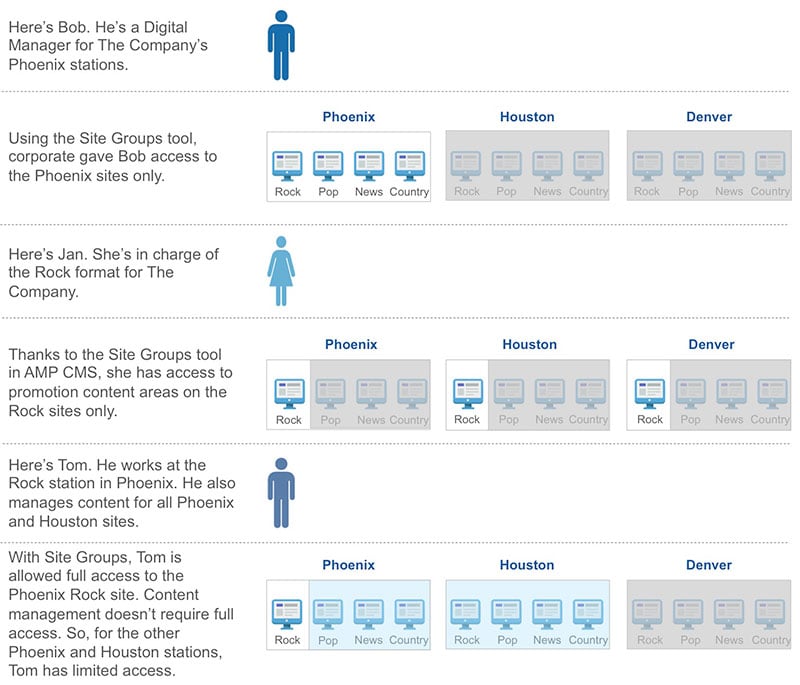 In short, "Groups" allow our users to do a tremendous amount of content sharing and network and user management in an extremely flexible and truly multi-site manner.
Customized for Radio's Unique Needs
As the web-hosting provider for over 1,000 radio station websites, Triton understands what a radio station needs from a site. That is why we incorporated a significant number of radio-specific tools into AMP CMS, including:

- An On-Air Now tool to showcase personalities broadcasting in real-time
- A central event, promotion, and concert calendar complete with the ability for listeners to submit their own local events
- The ability to schedule site takeovers, content, and social network communications
- Visual-editing capabilities to make updates to the site quickly and easily
- Responsive design provides complete cross-device compatibility ensuring a seamless viewing experience
AMP CMS was built with radio in mind, ensuring that a station's website is a natural extension of its over-the-air content.
We know your most valuable digital asset is your website. So, we've created the most powerful, easy-to-use, flexible, and secure platform to manage it: AMP CMS.
Contact us at solutions@tritondigital.com to request a demo today!