Podcasting is particularly appealing for marketers because regular listeners tend to be very engaged and emotionally involved in what they are listening to. You won't have any listeners to engage with in the first place if it doesn't resonate. To grow your audience you need to continue to publish original, and appealing content this is also what brings in the advertising dollars. Publishers need to retain and grow their audience to remain attractive to advertisers, but too much advertising will chase your audience away. You need the right tools to measure your audience, and to target it properly.
Advertising has evolved over hundreds of years to become a key driving force behind our economy, and today we see this industry enter a new age of technological possibilities.
Publishers want to:
Grow their audience

Publish appealing content

Grow their revenue
Podcast audiences are heavily engaged with their content. According to Edison Research's Infinite Dial 2021 monthly U.S. podcast listenership grew to an astounding 116 million people. The pandemic had certainly accelerated the growth of podcast listening and this left many marketers contemplating podcast advertising asking the question: So, what demographic are we looking at?
Podcast listening is active. Listeners choose what they want to listen to, as well as when and where they want to listen to it.
"Podcast listeners are a highly dedicated, engaged audience. Just by being a podcast listener, you're someone who cares enough to tune in on a regular basis. You're more likely to be an informed resource for your colleagues or friend's, podcasts attract people who are much more passionate, influencers." ("7 Reasons Why You Should Choose Podcast Ads - Midroll") -Marko Savic, Igloo Software
A Nielsen study for a U.S. podcast advertising company showed that podcast ads are 4.4 times more effective than display ads. (Podcast advertising generates up to 4.4x better brand recall than other digital ads)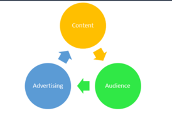 Advertisers want to:
Increase their brand awareness

Reach their targeted clients

Get the most value for the least amount of money

Measure their ROAS
Why podcasting:
Podcasting has an engaged audience. Listeners make the choice to listen to what they want to, when they want to and where they want to.
Edison's research in Q3 2020 showed that 49% of super podcast listeners (at least 5hrs/wk) have a more positive opinion on advertisers they heard on a podcast they listen to regularly. Same percentage agreed that advertising on podcast is the best way for a brand to reach them.
Other research shows that advertising on podcasts brings higher results and higher return on ad spend.
Triton tools:
The trusted standard in online audio measurement. Triton's extensive suite of podcast measurement tools and features continues to evolve. Audience measurement offers answers to so many questions. It enables establishing specific and measurable objectives throughout the process, from a campaign's creation to its implementation and results.
Measurements: understanding the audience
Podcast Metrics Demos+ provides enhanced metrics including person-level demographic, sociographic, media behavior and purchase intent data in the U.S., to further inform pod cast advertising decisions.
Triton's Demos+ tool provides demographic profiles of your listeners at the individual listener level, with reports provided for individual podcasts, groups of your podcasts, or your entire organization in aggregate.
This rich data set can be sliced and exported to power your models and reporting, and can be accessed via our API for automated ingestion into your data environment.
Advertising: reaching your audience
Control advertising of your brand

TAP: direct relation with the advertiser

Yield-Op

: brand quality control on who or what is allowed on the publisher's brands

Target specific group of listeners

Geo location

Devices

Demo and behavior

Content associated

demo and behavior (regroup: Station tags)

podcast episode specific

Measure:

Via 3rd-party tracking pixel: Advertisers can measure their ROAS.

ROAS is essential for quantitatively evaluating the performance of ad campaigns. By keeping careful tabs on ROAS, advertisers can make informed decisions on where to invest their ad dollars and how they can become more efficient.
Avails

Know what's on the shelves to sell





Tap Explore enables you to generate custom reports that provide increased insight around sell-through rates, delivered impressions, ad spend performance, and more to help you better optimize existing revenue opportunities and identify new ones.

Publisher can understand their impression traffic trends (when, where)

Publisher can evaluate overall revenue and eCPM (how much)

For sending Advertiser: granular campaign reporting
Campaign creative reports

Deeper insight on creative effectiveness (LTR, reach)
These days, it seems like there is a podcast for everything. No matter what you're into, there is bound to be a podcast that caters to your hobbies, or obsessions. New podcasters are popping up every day. Just how many podcasts are out there? 525,000 active podcast shows with more than 18.5 million episodes, this is according to apple statistics.
The proportion of Americans listening to podcasts has nearly doubled in the past nine years and is projected to continue growing for the foreseeable future. And since interest in podcasting has risen sharply, an increasing number of advertisers are leveraging this trend to promote their products and services.