There has been a flurry of announcements recently around premium paid podcast distribution. First, Apple announced "the next chapter of podcasting with Apple Podcasts Subscriptions" and Spotify quickly "ushered in a new era" soon after.
This is great news for podcast publishers and the industry as a whole, as it shines a light on the potential of paid or member-centric podcast distribution.
In contrast to Apple and Spotify's paid podcast subscription offerings, which can only be accessed by listeners and creators through their respective platforms and tools, Omny Studio's secure podcasting tools allow publishers to distribute exclusive audio content to members on the podcast app of their choosing.
In this article, we will explain how the secure podcast distribution tools in our Omny Studio platform work, so that you can make an informed decision when you're evaluating your options as a publisher in this exciting, new-ish space!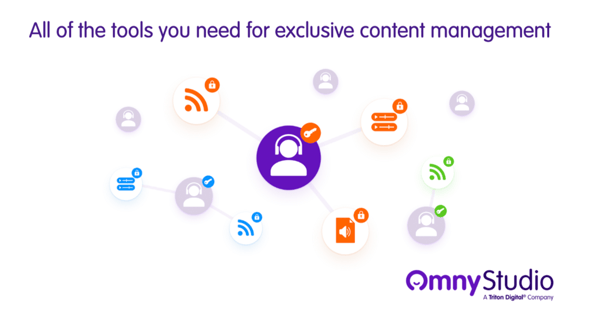 How Does
Omny
Studio's Secure Distribution System Work?
With Omny Studio's secure distribution system, each member (listener) gets their own unique feed using a token system (more on this here).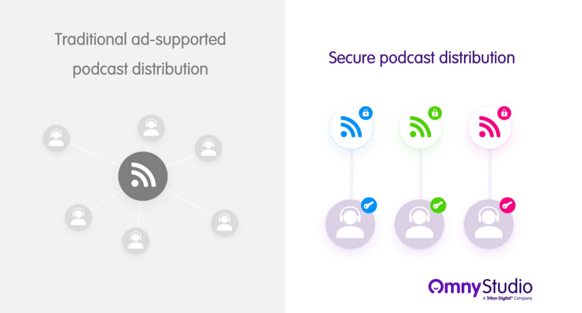 Traditional podcast distribution versus secure podcast distribution
This allows publishers to maintain a 1:1 connection with their loyal members, while also offering them the flexibility to subscribe on the app of their choosing.
The full suite of tools allows publishers to:
Generate feeds and landing pages for onboarding new members.

Detect 'unusual' download behavior

 in order to determine whether their member's feed has been shared.

Pause or cancel a member's subscription.

The ability to do all of the above with your existing membership system,

or,

bundle podcasts into a wider offering via

Omny

Studio's management API.
The Onboarding Flow
f
or Listeners
This is how the onboarding flow for secure feeds works at a high-level with 3rd party apps: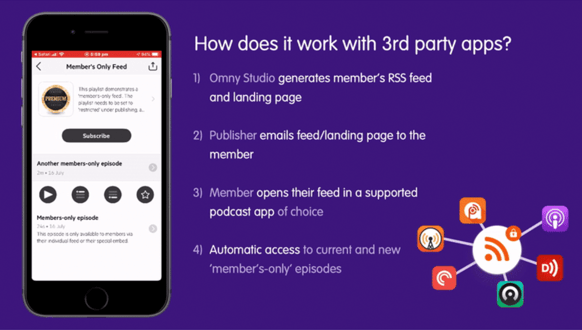 How to subscribe to a member's feed
Apple Podcasts, Google Podcasts, and seven other popular podcast apps allow your members to subscribe to their member feeds using this workflow.
It is also possible to distribute content in a similar way to your owned and operated apps and websites, and customize or create your own onboarding workflow with Omny Studio's APIs.
As with everything in Omny Studio, a turn-key offering is available alongside the tools for you to build on what we've already created — the choice is yours.
Premium Podcast Distribution Strategies
Today, there are four core strategies which are being employed by publishers for premium podcast distribution: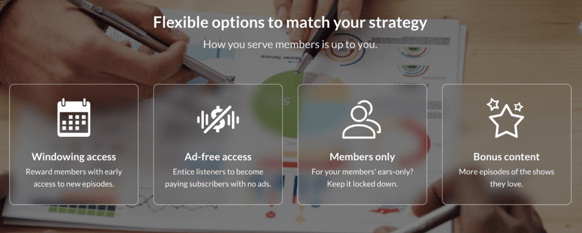 Four core premium distribution strategies
Windowing access — publishers can reward members with early access to new episodes, and perhaps only make those episodes available on their own apps to help drive memberships.
Ad-free access — an otherwise ad-supported feed can easily be accessed by bypassing ad insertion, which can be used as a subscriber-driver for your own properties. It is also possible to allow listeners to access these feeds ad-free on 3rd party apps such as Apple Podcasts.
Members-only content — only allow your members to access your show. We've also seen this concept being used for internal, company-wide podcast distribution for important messages from the CEO, HR, and others.
Bonus content — reward members with exclusive episodes or behind-the-scenes content from the shows they love.
You can also use a combination of the above — e.g. ad-free access to all your shows coupled with special, member-only episodes or edits for selected feeds.
Why Choose
Omny
Studio's Secure Distribution?
In general, Omny Studio's secure distribution tools have been designed to give publishers the maximum amount of control over their premium content distribution and audience strategy. Simply put, Omny Studio allows you to build your own house rather than being a brick in someone else's, which means more revenue opportunity and flexibility in the long run.
Key takeaways:
Paid podcast distribution is an additional revenue opportunity for podcast publishers.
There are four main strategies we see successfully used by publishers: windowed (early access), ad-free, members-only, and bonus content.

With

Omny

Studio's secure distribution tools, it's possible to bundle podcasts into a pre-existing or wider subscription offering and give listeners the flexibility to listen on the supported app of their choice.

Omny

Studio allows you to manage ad-supported and premium content in one place, seamlessly.

Omny

Studio's secure distribution tools allow you to have more control over your distribution strategy and relationship with members — we don't get between you and your paying listeners.
For more information or if you have any questions, please contact omnystudio@tritondigital.com